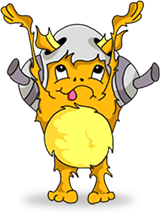 In a creepy world full of [kwlink]monsters[/kwlink], Baron Mharti's bizarre beasts rule the land like a pack of cartoony Frankensteins. The Monster Lab game for [kwlink]Nintendo DS[/kwlink] and [kwlink]Wii[/kwlink] lets you challenge the baron by creating your own twisted monsters and sending them out to battle! Armed with over 150 different monster bits, there are more than 100 million monsters waiting for your genius to bring them to life. Get your best mad scientist laugh ready to rock and check out the Nintendo Wii game trailer right here!
Can't wait to play the game? Check out Kidzworld's Monster Lab: Monster Generator!
 
Check out the Monster Lab Official Website: http://www.monsterlabthegame.com/us/
More Game Goodness
We have a pile of Monster Lab video game pictures for you, click them to see the larger version.
| | | | |
| --- | --- | --- | --- |
| | | | [image_link:10988][/image_link |
Mwa-Ha-Ha!...
And, here's a look at the Monster Lab video game for Nintendo Wii, click to download the video!
Mad Science FTW!
Hitting stores in time for Halloween, Monster Lab looks like a cross between [kwlink]LEGO[/kwlink], [kwlink]Pokemon[/kwlink] and [kwlink]Final Fantasy[/kwlink] - but with more evil laughter. Stay tuned for more news!
Related Stories:
[kwlink]Ben 10: Alien Force :: Game Preview[/kwlink]
[kwlink]Pony Luv :: DS Game Review[/kwlink]
[kwlink]Space Chimps Game Cheats[/kwlink]
[kwlink]Wii Virtual Console Game Downloads[/kwlink]