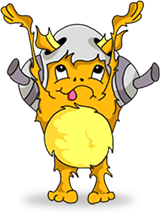 A Brand New Royal Couple & a Couple of Fearless Sidekicks!
In anticipation of the March 29th release of TANGLED on Blu-ray & DVD, take a look at this bonus material including video clips and images! It's a LOT of work to animate 70 feet of hair! Check out some behind-the-scenes magic and fun facts in the below clips!
Hair Trouble (Bonus)
Alternate Opening (Bonus- Deleted Scene)
Naming Pascal (Bonus)
Fun Fact #1
Fun Fact #2
Rapunzel and Flynn are welcomed into the Disney royal court as the newest Princess & Prince. Watch some of their hair-raising adventures in this slideshow!
Pascal and Maximus are ever-faithful sidekicks for our heroes.
Trailer: