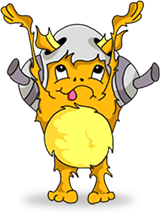 Embark upon the adventure of a lifetime as Journey 2: The Mysterious Island arrives on Blu-Ray 3D Combo Pack June 5, 2012.
About the Movie
The movie begins when seventeen-year-old Sean Anderson receives a coded distress signal from a mysterious island where no island should exist.
Unable to stop him from tracking the signal to its source, Sean's new stepfather joins the quest that will take them first to the South Pacific, and then to a place few people have ever seen or lived to tell. It's a place of stunning beauty, strange and threatening life forms, volcanoes, mountains of gold and more than one astonishing secret.
Together with Gabato, the only helicopter pilot willing to risk the trip, and Gabato's beautiful, strong-willed daughter, they set out to find the island, rescue its lone human inhabitant and escape before seismic shockwaves force the island underwater and bury its treasures forever.
Special Features
Journey 2: The Mysterious Island is available on Blu-Ray, DVD and Blu-Ray 3D Combo Pack. The special features include:
Are You Strong Enough to Survive Mysterious Island? Interactive Map
Gag Reel
Deleted Scenes
Have Your Say
What's your favorite part of the film? Let us know the best scene below!