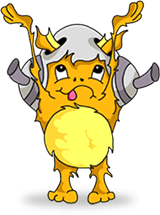 Social media can be a fun way to express yourself, share with friends and meet new people. But, nowadays it seems like there is constantly a hot new social media product popping up. What ones should you use? What's the difference between them all? Kidzworld has the details.
Social Media Sites
Courtesy of Social Maximizer
Twitter
Twitter
Courtesy of Twitter
Twitter lets you share what's on your mind in 140 characters or less. This means you need to keep your thoughts short and snappy! You can follow other users so you stay updated on what they are doing and thinking.
Pinterest
Pinterest
Courtesy of Pinterest
Pinterest is a super visual site that lets you create a collection of your fave things. You can create different boards (basically collections with themes) and then "pin" images that you find online. For example, if you want to start planning your summer wardrobe shopping, you can pin items you like from different clothing websites like American Eagle, Old Navy, Abercrombie, etc.
Tumblr
tumblr
Courtesy of tumblr
Tumblr is kind of similar to Pinterest, but a bit more dynamic. Users create their own micro blogs that are usually a collection of images, GIFS and videos.
Pheed
pheed
Courtesy of Pheed
Pheed is a brand new site that is becoming very hot! It lets you share text, photos, videos, audio and voice notes. It also gives you the option to monetize (make money off) your content, if you want to.
Vine
Vine
Courtesy of Vine
Vine is a mobile app created by Twitter. It allows you to create short video clips that are a maximum of 6 seconds, and then share these clips with friends.
Instagram
Instagram
Courtesy of Instagram
Instagram is perfect for the photographer within us all. It lets you take photos and then share them with the world! There are fun filters that you can apply to your pics to make them look even better.