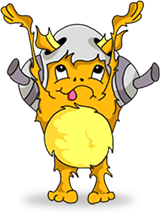 Frozen Blu-ray + DVD Collector's Edition Review
- Reviewed by
Kidzworld
on
Mar 18, 2014
( Rating:

)
Kidzworld reviews the animated adventure Frozen, available now on Blu-ray and DVD!
Walt Disney Animation Studios presents a chilly twist on one of the most humorous and heartwarming stories ever told. "Disney Animation's best since The Lion King" (William Bibbiani, CraveOnline) will melt your heart.
Fearless optimist Anna sets off on an epic journey — teaming up with rugged mountain man Kristoff and his loyal reindeer Sven — to find her sister Elsa, whose icy powers have trapped the kingdom of Arendelle in eternal winter. Encountering Everest-like conditions, mystical trolls and a hilarious snowman named Olaf, Anna and Kristoff battle the elements in a race to save the kingdom.
Anna, Kristoff and Sven meeting Olaf
The Bottom Line
Frozen has to be Disney's most successful animated film in a long time, and it's safe to say that it struck a chord with nearly everyone who has seen it - young and old alike - so we shouldn't have to do much to convince anyone that they want to take it home and enjoy it again and again. From the empowering storyline (based on Hans Christian Anderson's fairytale "The Snow Queen") to the fantastic musical score and sweepingly beautiful visuals, there's almost nothing we don't love about this film, and we're all hoping this heralds the beginning of another golden age of animation for Disney.
Elsa and her beautiful Ice Palace
The Frozen Blu-ray includes some great bonus material (althhough frankly, we would have been happy with more!) Standouts in the extras included the Oscar-nominated short film "Get a Horse," and of course the Demi Lovato music video for "Let it Go" - trust us, you'll be singing along with her by the time you've watched the movie again. You won't regret having this gem in your collection.
Clip: "Let It Go"
Bring home Frozen on Blu-ray High Definition — featuring a blizzard of never-before-seen bonus extras with gorgeous animation, memorable characters and unforgettable music. It's dazzling fun for the whole family!
Olaf, Anna, and Kristoff racing on Sven!
New Bonus Features:
The Making Of Frozen
D'frosted: Disney's Journey From Hans Christian Andersen to Frozen
Breaking The Ice - The Real Making Of Frozen
4 Deleted Scenes with introduction by Directors Chris Buck and Jennifer Lee
Original Theatrical Short - "Get A Horse"
"Let It Go" Music Videos by Demi Lovato, Martina Stoessel & Marsha Milan Londoh
Frozen Teaser Trailer
Clip: The Making of Frozen
Frozen Blu-ray + DVD Collector's Edition Rating:
Frozen Blu-ray DVD Collector's Edition
Courtesy of Disney
Frozen Blu-ray + DVD Collector's Edition is now available!
Frozen Blu-ray Trailer