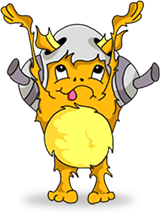 During an expedition to a remote African jungle, the Greystoke family's helicopter crashes, leaving one survivor: the young boy J.J., nicknamed Tarzan. Raised by gorillas, Tarzan lives by the laws of the jungle — until he encounters another human being, the courageous and beautiful Jane Porter. For Tarzan and Jane, it's love at first sight — and the beginning of a thrilling adventure — as Tarzan uses his instincts and intellect to protect his jungle home and the woman he loves.
Kellan Lutz as Tarzan
Courtesy of Lionsgate Home Entertainment
Exclusive Clip: Kellan Lutz In His Role As Tarzan
Kellan Lutz  headlines the newest incarnation of the iconic tale Tarzan, now available on Blu-ray and DVD exclusively at Walmart. Based on the 'Tarzan' stories created by Edgar Rice Burroughs, one of the most classic coming of age stories of all time is now completely re-imagined for a new generation in stunning CGI-animation.
Tarzan with Jane Porter
Courtesy of Lionsgate Home Entertainment
Tarzan is now available on Blu-ray + DVD!
Tarzan Blu-ray
Courtesy of Lionsgate Home Entertainment