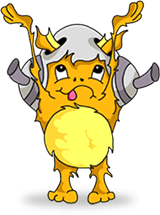 This was a crazy week for news! We got a new trailer for Inside Out  and Interstellar, we learned that a Marvel star will return in Agent Carter and saw two of the coolest things ever on social media. Check them out and let us know which one is your favorite news story of the week!
1. New Trailer for Disney/Pixar's Inside Out
This week we got a new trailer for Disney/Pixar's latest animated film Inside Out. Not only do we get to see a glimpse of the film, which personifies the emotions in a young girl's head, but you'll remember all the moments that made you laugh and cry from past films. Sniff.
Go inside a little girl's head in Inside Out
Courtesy of Disney/Pixar
Inside Out Trailer
2. Two-Face cast in Gotham
One of Batman's greatest villains, Two-Face, will join the cast of the Batman prequel Gotham. Nicholas D'Agosto (Heroes, Final Destination V) will play Harvey Dent, who becomes the man with two faces. Which other villains would you like to see in the show? The cast is filling up fast!
Nicholas D'Agosto will have two faces in Gotham
Courtesy of FOX
3. Batmobile slippers
Now your feet can be as cool as Batman's ride! Hot Topic has put out a pair of fluffy Batmobile slippers. Just wait until the dog tries to chase you in these!
Take my money! Batmobile slippers!
Courtesy of Hot Topics
4. "Star Wars Rebels" renewed for Season 2!
"Star Wars Rebels" which premieres on Disney XD tonight, has already been renewed for a second season! If you guys have seen the previews, this is probably not a big surprise. With the new film coming out, you'll want to keep a sharp eye on the show. We've been told that we're going to get a lot of clues in the animated series.
Star Wars Rebels premieres tonight and it's already back for another season!)
Courtesy of Disney XD
5. William Shatner to appear in the new Star Trek movie
William Shatner played Captain Kirk in the original Star Trek series. At Nashville Comic Con this weekend, he revealed that he'd been approached to appear in Star Trek 3. Now, we don't know if this will be along the lines of Spock's return in the first one or if he'll even be playing Kirk, but it's pretty cool to hear.
Captain Kirk from the original Star Trek series is likely in the new film
6. Netflix and IMAX team up and upset a lot of theaters
Netflix and IMAX have teamed up to release the Crouching Tiger, Hidden Dragon sequel at the same time. Unfortunately, a number of theater chains with IMAX screens don't like the idea and are boycotting the film. So, would you rather watch a film at home or on the big screen?
IMAX and Netflix cause controversy with their Crouching Tiger, Hidden Dragon deal
Courtesy of Netflix
7. New trailer for Interstellar
You think you got chills when the trailer for Gravity hit? Wait until you see the giant tidal wave in the new trailer for Interstellar! Matthew McConaughey stars as a man who leaves Earth, never to return to explore the galaxy. Seriously, you might have nightmares. So worth it!
New trailer for Interstellar will blow your mind
Courtesy of Paramount Pictures
Interstellar Trailer
8. Dominic Cooper to reprise the role of Howard Stark in "Agent Carter"
Dominic Cooper played Howard Stark, father of Iron Man in Captain America: The First Avenger. This week we learned that we're going to see him again in the upcoming TV series "Agent Carter". Anyone else really excited for this show?
Dominic Cooper as Howard Stark
Courtesy of Marvel
9. I Am Legend getting a Will Smith-less reboot
Well, despite the fact that I Am Legend, which is based on a novel from 1954, has seen 4 film versions, we're about to get another one. The new film reportedly will not feature Will Smith who starred in the last one.
I Am Legend getting a reboot without Will Smith
10. Pizza cake
This is either the most disgusting thing you've ever seen or the most awesome! This photo of a pizza cake started making the rounds online this week. Though it's been out there in the past, there is a never a bad time to check it out again. So, which side do you fall on? Gross or amazing?
Pizza cake is either the grossest or most awesome thing ever
Have Your Say
What was your favorite news story this week?  Comment below and let us know!