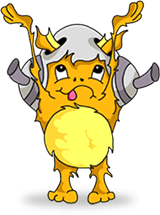 By: Jenna Busch
This week we got new trailers from New York Comic Con, a young girl wants to be the first person on Mars, superheroes stormed your TV screen and the return of Darth Vader was announced. Check out what you missed this week!
1. You voted for The Hobbit: The Battle of the Five Armies posters. Here's what you got!
Fans looking forward to The Hobbit: The Battle of the Five Armies have been voting over Twitter to see which character poster they want to see next. It seems like everyone is into elves. This week we got posters for both Galadriel (Cate Blanchett) and Legolas (Orlando Bloom). Legolas was apparently the closest vote of all! Head over to @TheHobbitMovie to vote for the next one!
She's judging you with that stare! Does Orlando Bloom age backwards?
Courtesy of Twitter
2. Big Hero 6 teaser video from New York Comic Con
Didn't make it to New York Comic Con this year? Never fear. Two great videos were released for fans. The first one is the teaser for Big Hero 6. This is the latest Disney animation film, and the first to be based on a Marvel comic book. Don't worry. You don't have to go out and read it. The similarity is mostly in the names. We've seen footage and you're going to fall in love with the squishy robot Baymax.
Baymax is the best!
Courtesy of Disney
Big Hero 6 New York Comic Con Sizzle
3. New trailer for Tomorrowland from NYCC
The other video that came out of NYCC was Disney's Tomorrowland starring George Clooney and Brit Robertson. In fact, Clooney crashed the stage during the presentation! A movie about a secret place where anything is possible? Sign us up!
Have your mind blown with the new Tomorrowland trailer
Courtesy of Disney
Tomorrowland Teaser Trailer
4. J.K. Rowling teases Fantastic Beasts and Where to Find Them on Twitter
If you love Harry Potter, we're pretty sure you're excited for the new film set in the universe, Fantastic Beasts and Where to Find Them. This week, author J.K. Rowling posted an anagram on Twitter and asked people to solve it. Check out her teaser, helpful hint and the answer in these tweets!
Did you solve J.K. Rowling's anagram?
Courtesy of Twitter
5. Darth Vader to appear on Star Wars Rebels
"Star Wars Rebels" debuted on Disney XD on October 3rd, but there was something very important missing. This week we learned that ABC will air the one-hour season premiere with a special scene featuring Darth Vader himself! The show will air on ABC on Sunday, October 26th. Is anyone else excited?
Guess who's stopping by Star Wars Rebels!
Courtesy of Disney XD
6. "Arrow" returns and The Flash premieres
This week we got a double dose of superheroes when "Arrow" returned (with a huge event right at the end) and The Flash premiered. Did you watch? We want to know what you thought of both shows, so make sure you leave your thoughts in the comments section. If you're like most of Twitter, you loved them!
Barry Allen could totally beat you in a race
Courtesy of The CW
7. Hotel Transylvania has all of your Halloween needs!
Hotel Transylvania 2 will hit theaters next September, but you can get your Halloween on right now by clicking the picture. The site has a ton of awesome online games you can play, just in time for the spookiest night of the year!
Head to Transylvania for all your Halloween needs!Courtesy of Sony Picutres
8. 13-year-old Alyssa Carson from Baton Rouge, Louisiana is training to be the first person on Mars. NASA is totally on board with her plan, even giving her the NASA call sign "Blueberry." Alyssa is studying science, a number of languages and she's the first person to attend all of NASA's world space camps. She said she wants to be the first and even has her own blog where she talks about the experience. You can follow her on Twitter @NASABlueberry1.
Will this 13-year-old girl be the first person on Mars?
Courtesy of Twitter
Have Your Say:
Would you be willing to go to Mars, even if you couldn't come back? What did you think of the Arrow  and The Flash premieres? Are you watching Star Wars Rebels? Let us know in the comments!