forums
Welcome to the Kidzworld Forums!
KW is a fully moderated kids social network. Please read the
rules and regulations
before you start posting!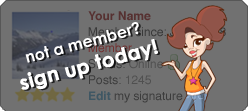 New on KW
KW is always adding new and exciting features. Stop by here to see what is new.
Current Events
Whats new in the world today! Post about the latest news and events of the world we live in.
Friends
Whether you're digging 'em or dissing 'em - here's a place to dish about your BFF's or not.
Family Issues
Problems at home? Can't seem to get along with your sibs? Get help now!
Style
Need style tips or makeup advice? Have fashion questions? Not sure what to wear or how to wear it? Post your comment here!
Pets
Chat about your cat, dog or even your lizard! Kidzworld pets forum is your place to chat about all your pets.
Wild Animals
Chat about your favorite wild animals and creatures in the Kidzworld Wild Animals forums.
Everything Animals
What is your favourite animal? Whether it's a wild animal or a domestic animal chat about every animal here.
Last Post:
kat
Posted By:
Kirsteeeeen
Topics
116
Posts
1285
Views
27759
Feedback & Suggestions
Have suggestions to make Kidzworld a better place? Got feedback? Let us know. Kidzworld loves to hear from you!
Homework Help
Need help with math, geography, science or any other school work? Post your questions here! Or maybe you are an expert. Share you knowledge here.
what's going on?
Users currently active: 6
With 92 guests.
Welcome to our newest member:
kesh200
Forum stats:
Threads: 184597, Posts: 4344586, Members: 2312328
Today's top posters:
Today's birthdays:
happyjoynut
,
Jahcahb134
,
ryan101200
,
MeMedea
,
Leora_Loves_You
,
superwesley
,
-crystaal-
,
trinity 4 lyphe
,
liljoker26
,
MaxLovesU
,
tomtom999
, and
LovelyBones33
...
see all