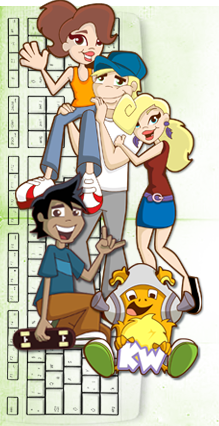 Parents & Educators
Kidzworld is the only fully moderated safe kids social network . Since 2001 Kidzworld has been a safe haven for kids to enjoy, explore and learn from the world wide web. Today Kidzworld is the largest independent kids' website in the world. We do it by sticking to our original core values: the safety and security of young people, children and students alike. Sure, we've added lots of bells and whistles - including the KW Zone,our social networking component - but our bottom line has always been the safety and security of our users. Kidzworld truly is a safe social network for kids..
A secondary goal of Kidzworld is assisting kids worldwide to grow and learn as they surf the web. Our experience has taught us there are many ways to help students succeed, both in and out of school.
While garnering attention from millions of kids worldwide, Kidzworld is also popular information source for teachers, featuring content and resources that save educators time and make learning fun for students in Grades 4 to 9. Educational content must be both enjoyable and entertaining or many kids wouldn't use it. Our content is carefully balanced to gain and keep students' attention.
Blended with games and celebrity bios are articles from science to reading to the environment to space and beyond. Our Dish-It advice blog feature acts as a forum for kids to resolve some pretty personal questions. Hey Coach invites queries about fitness, healthy eating and more. I encourage you to take a tour and see for yourself. We're always looking for ways to make the Kidzworld Social Network more interactive and engaging. We encourage feedback from those who matter, you - our users.
Allen W. Achilles, Founder
allen@kidzworld.com
Kidzworld is 100% COPPA-compliant. We do not allow bullying, fighting, swearing, racial epithets or the disclosure of personally identifiable information. Every potential interaction between users is moderated by our experienced team. We are very proactive with the kids and encourage their feedback and active involvement. In fact, they are very good at policing themselves. We pride ourselves on being a safe social network for kids - we hope you agree.