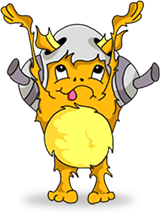 Osmosis Jones Movie Review
- Reviewed by
Kidzworld
on
Dec 27, 2006
( Rating:

)
Osmosis Jones is a zit popping, power puking cartoon ride through Bill Murrays grease and sugar infested body. Along the way youll meet Drix, the cold pill and the evil virus, Thrax.
Osmosis Jones
is a zit-popping, power-puking part cartoon/part live action ride through a zookeeper's grease and sugar infested body. Frank (Bill Murray) is a couch potato who has a regular diet of potato chips, chicken wings, donuts and even eggs coated in monkey poop. His lifestyle is catching up with him and his body is having trouble keeping Frank healthy.
To the rescue comes Osmosis Jones, an animated white blood cell in Frank's body, who has the job of fighting off infections and keeping Frank alive. Jones travels every corner of Frank's stomach, blood and heart with the help of a body police force and a cold pill name Drix. But the battle to prevent Frank from dying comes under attack from an evil super-virus named Thrax. Will Frank's eating habits finally bring him down?
Osmosis Jones is a pretty fun movie with lots of body gags including a great puke scene between Bill Murray and co-star, Molly Shannon. You'll also notice the voices of Brandy and David Hyde Pierce (Niles from Frasier) in the depths of Frank's nasty organs.
The movie's animated tour of the human body is a great way to learn how everything inside you works but at times all the biology talk becomes a bit hard to follow. Angioplasty? Uvula? Colonics? What are those things anyway? What is clear is that not eating right and never exercising means big trouble for the mini-world operating inside your body.
Rating:

Related Stories: