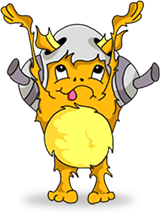 Intex Pool Toys Review
- Reviewed by
Kidzworld
on
Jul 08, 2008
( Rating:

)
Kidzworld reviews swimming pool accessories made by Intex.
You've got the swimsuit and you have a
pool
to go to. Now all you need is some
cool new
swimming
pool accessories! We got you hooked up!
Intex King Kool Lounger
Want to be
the king
of the pool? With this inflatable throne, you will feel on top of the
world
. The King Kool Lounger is made from
12 gauge vinyl
which makes is sturdy and comfortable. This product also has multiple air compartments. Rather than making the entire inflatable thing a single balloon, they're split into
multiple compartments
. This helps them hold their shape and gives them extra internal walls for more structure. You can keep a
cold
drink beside you at all times while you are relaxing and getting a tan. This chair measures at 63" x 33 1/2, so unless you are the size of
Shaq
, this will accommodate almost anyone!
Thumbs Up:
Nice and sturdy.
Easy to set up.
Super comfortable.
Drink holder a plus!
Thumbs Down:
Not sure about the rainbow color.
Rating:


Age: 8 and up
Price Range:

Intex Aviator Sports Set
You don't need to be in
Hawaii
to enjoy a little snorkeling! The Intex Aviator Sports Set comes equip with fins,
goggles
and snorkel. The snorkel has a soft and flexible mouth piece. The fins are made from
thermoplastic rubber
so you get a comfy shoe fit. The
mask
has an improved hypoallergenic facial skirt so there is no water coming in. That is perfect, because we all know how
chlorine
irritates the eyes! This set can come in either
yellow or blue
!
Thumbs Up:
Good price!
Reliable, made from good materials.
Rubber is not too stiff.
Thumbs Down:
Not enough colors to choose from!
Rating:


Age: 8 and up
Price Range:

Intex Junior Jumper
A
trampoline
in the water? That's right, with the Intex Junior jumper you can get maximum hang time whether you are at the pool,
lake
or ocean! This is extremely fun and can keep you entertained for hours. Made from
super tough
vinyl, this product is as tough as it is fun! No doubt, everyone at the
pool
will want to be your friend when you show up with this super sweet toy!
Thumbs Up:
Tons of fun! Can entertain for hours!
Relatively easy to set up.
Thumbs Down:
Tough to clean.
Only one person can jump on it at a time.
Rating:


Age: 9 and up
Price Range:

Price Range Legend
$0-$15 =


$16-$30 =


$31-$45 =


$46-$60 =


$60+ =

Related Stories: