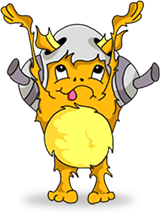 On The Line Movie Review
- Reviewed by
Kidzworld
on
Dec 27, 2006
( Rating:

)
The romantic comedy On The Line hit the theaters on October 26th. Two fifths of *NSYNC took a break from being popstars to try and be movie stars. Is On The Line worth waiting in line for?
Two fifths of *NSYNC hit the movie theaters this weekend in the romantic comedy
On The Line
. Joey Fatone and Lance Bass took a break from being popstars to try being movie stars. So is
On The Line
worth waiting in line for? Check it out.
This flick is a cute, predictable romantic comedy about a guy named Kevin (Lance Bass) who is in desperate need of a backbone. Poor Kev is a pushover and a wimp -but a really nice guy too so you don't hate him. His friends - one played by Joey - are overgrown 15 year-olds. They seem like a lot of fun but you'd rather shave your head than date one of 'em.
Poor Kev meets the girl of his dreams on the subway and is too spineless to ask for her phone number or even her name. After a co-worker stabs him in the back, he takes control and tries to find her. It turns into a major media event.
Though it's not painful to watch, Lance Bass can't act. Joey and the mystery girl (played by Emmanuelle Chirqui) can, which helps a lot. Simply put, if you dig all those cavity-causing, slightly goofy Freddie Prinze Jr. flicks - and *NSYNC are your music gods - then On The Line is for you. It's a nice break from everyday life.
Here's a tip. Listen to the background music throughout the flick. The soundtrack has new, never before released tunes by *NSYNC. Also, don't bolt during the credits. There is a gut-busting "behind the scenes" look at the making of the movie which features two over-enthusiastic hairdressers named Justin and Chris. Yeah, THAT Justin and THAT Chris.
Rating:

Related Stories
Celebrity CD Review