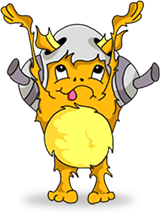 Business Development Associate
- Reviewed by
Kidzworld
on
Dec 27, 2006
( Rating:

)
Do ya ever look at a box of cereal and think the packaging sucks? Think you can do better? Then you may have what it takes to work for a design studio.
Do you ever look at a box of cereal or a bag of cookies and think the package design sucks? Think you could do better? Then maybe you've got what it takes to work for a design studio like
PrimoAngeli: fitch
. Michael Wozniak is a 33 year-old Senior Business Development Associate
for PrimoAngeli: fitch
- an award-winning brand, packaging and interactive design studio in San Francisco, California. It's his job to find new biz for the company so they can make money.
Michael meets with clients to find out their needs and to come up with a better design for their product packaging. A company may decide that their label design or packing needs a new look to improve sales and Michael and Primo come up with a new, cool idea. An average day on the job involves scheduling meetings with possible clients, prepping for the meetings and understanding the needs of the new companies. He then designs contracts to meet those needs. Some of the brands he's worked with include Baskin-Robbins ice cream, Guinness beer, Kellogg's Nutrigrain bars, Disney Xtreme Coolers, Seattle's Best Coffee and Chupa Chups Lollipops (yummy!)
Michael's been working with PrimoAngeli: fitch for two years but has 10 years prior experience. Here's the full scoop on what a Senior Business Development Associate does for a marketing company like PrimoAngeli: fitch.

Training & Equipment
Michael went through serious on-the-job-learning with the company but he also got a University degree (a B.A. in Geography.) He has also taken Business Admin, Economics and Accounting courses. He is currently working towards his MBA (Masters of Business Administration.) Michael says the most important tool is the "gift of the gab," although a
laptop computer
is a big help!

The Perks
He enjoys traveling throughout the US to cities like Los Angeles, Chicago, Dallas, Houston, Denver and Seattle. It's an exciting way to have meetings and sometimes
play tourist
. Not to mention building up his Airmiles stash for personal trips. Another bonus of doing branding and design for the food industry is a steady supply of great food in the office like Ben & Jerry's ice cream and Trident White gum.

The Downside
Even though it's cool to travel, sometimes it can be tiring cuz your days can be extremely long. Another downside, especially when the economy is bad, is that you have to make a lot of cold calls so people don't forget about your company. A disheartening part of the job is putting a lot of work into prepping for a client and another agency wins the account.

The Moola
A Senior Business Development Associate can make between $50,000 and $125,000 US a year. You work a lot of evenings and weekends but you can
make a lot of dough
.

Could This Be A Job For You?
If you're interested in the biz, Michael suggests finding any company/service/product or industry that interests you. If you can show that you are a well-spoken, passionate person with great listening skills and the intelligence to determine a client's position quickly, then you can do it. It's also important to get some schooling under your belt.
As for the coolest thing that's ever happened to him at Primo, Michael says, "The first large account that I ever won certainly gave me a lot of confidence that has remained with me since."
Check out some of the unique and recognizable product labels designed by PrimoAngeli: fitch.

Can you be part of PrimoAngeli: fitch if you're just a kid? (Hehe) Love this site, keep it up!

Kidz Submit By:
Nickname: tayle
Age: ?

Related Stories: