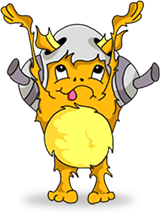 Need some costume ideas for Halloween? Check out what your favorite celebrities have dressed up as in the past.
1. Anne Hathaway donned a white robe and gold jewels for her Egyptian goddess costume. Make your own crown with craft supplies from the Dollar Store.
2. Victoria Justice wore all purple for her female version of Willy Wonka. Find a purple military jacket from your favorite clothing store and double it as a Halloween costume and a winter coat.
3. Pink pulled off this clown costume by adding a bright red bow and a cute polka dot dress. Use face paint to take your own costume up a notch.
4. Kelly Osborne and Luke Worrall cooked up a delicious couples costume when they chose to be bacon and eggs. Making your own costume from scratch can guarantee you will be the only wearing it!
5. Lo Bosworth reminisced about her childhood and went as Little Red Riding Hood. Borrow your mom's picnic basket and fill it with candy to add an extra sweet treat to your costume.
6. Lauren Conrad went back to the 1920s with her chic flapper girl costume. Go to a vintage second hand store to find a bargain dress and accessorize with feathers.
7. Audrina Patridge revisited her animal side and pulled off this beautiful peacock costume. Buy a similar black tutu at your local dance supply store.
8. Dakota Fanning proves you don't need to be Johnny Depp to pull of Alice in Wonderland. Costumes based on characters can usually be ordered online, but make sure you purchase it early enough for delivery.
9. Heidi and Spencer Pratt prove that you don't need to be a child to appreciate your favorite cartoon character. Find a group of friends and think of a theme you can all dress around.
Related Stories