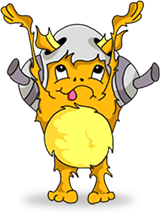 Freelance Illustrator - Toren Atkinson (MacBin)
- Reviewed by
Kidzworld
on
Dec 27, 2006
( Rating:

)
Do you spend hours doodling sketches on your notebooks when you should be listening in class? If youre into drawing, an illustrator may be the perfect job for you! Get the scoop on becoming an illustrator/artist.
Do you spend endless hours doodling sketches on your notebooks when you should be listening in class? If your teacher caught you, would they think it was any good? If you're a talented artist, becoming an illustrator may be the
perfect job
for you!

The Artist
A lot of people would love to be in Toren "MacBin" Atkinson's shoes. Toren is a 31 year-old freelance illustrator for role-playing
games
like
Dungeons & Dragons
and
Call of Cthulhu
. He's been working professionally as an illustrator for about six years. Wow! Imagine getting paid for something you're passionate about?
How'd he go from drawing at home to getting his sketches published in books? "I've always been drawing so it only made sense that eventually I'd be good enough for publication," says Toren. "When I thought I was 'there,' I just started sending my portfolio out to publishers I'd like to work for."

The Job
Toren will get an assignment, do up some sketches and often
take pics
of his friends in costume or browse through magazines for various poses. He prefers drawing from photos cuz he can get a more realistic looking sketch. Once he's done sketching by hand, he scans it into the
computer
, makes any necessary touch-ups in Photoshop, and emails it to the publisher.
Some of his credits include work for Dungeon Magazine and the Call of Cthulhu Rulebook. He's also done artwork for Web sites, CDs, as well as, cover art for board games and books. He's in the process of doing art for a game called Spaceship Zero, which he co-wrote and should be released in November of 2002 by Green Ronin Publishing.

The Good & The Bad
Toren is a freelance illustrator, which means he works for himself and companies pay him for his services. One of the best things is being his own boss. But it can also be one of the worst things too. Working for yourself can also be bad at times too. What happens if there aren't a lot of people looking for your services? You don't get paid.

How Do I Become an Illustrator?
Like any job, going to college or university is a definite plus. Taking art courses to benefit your
artistic hand
is a great idea. Being an illustrator is a job that requires talent - something that can't be taught. Toren does have some tips though. Grab a copy of
Artist's and Graphic Designer's Market
. "If you have your own unique art 'style' that can help a lot - though it always helps to be flexible in this industry," says Toren. Practice, practice, practice. You also need to be able to make your deadlines to get repeat business from a client.

The Dosh
A yearly salary is tough to estimate cuz it varies and depends on the artist but companies usually pay at least $100 to $150 US per page of black and white artwork. So the amount of money you make depends on how good you are and how many pictures you have published in a year. "I still go to garage sales (partly because I love scavenger hunts)," Toren says. "But I can afford to
eat
out and go to the dentist!"

Fun Stuff
Toren's been invited to conventions and events as a special guest where he gets to meet other artists, writers, and
celebrities
. He once met, Peter Mayhew, the guy who played
Chewbacca
. Toren says, "Most of the people in this industry are great folks and wonderful to work with." Another awesome part of being in the role-playing game industry is that you can get a lot of
gaming
books and swag for free!
Toren's fave thing to draw is definitely monsters! "I love to be creative and you don't have to adhere to many rules when you're drawing something that nobody has drawn before," Toren says of sketching. If he wasn't drawing he'd love to do production artwork for sci-fi action movies or video games. That'd be pretty cool but I think a lot of peeps would love to do what Toren's doing now!
For Spaceship Zero and Wrath of Rage, check out www.greenronin.com.
Related Stories: