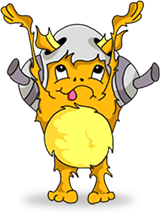 Urban Legend or Coffee Delicacy?
- Reviewed by
Kidzworld
on
Dec 27, 2006
( Rating:

)
Would you believe that theres a brand of coffee called Kopi Luwak that sells for as much as $300 US a pound, even though the beans have been picked out of a cats poop?
Are you tired of getting your
caffeine
fix from your morning can of Coke or Pepsi? Lookin' to try something a bit out of the ordinary? Then maybe you should give Kopi Luwak a shot. It's a full-bodied coffee experience with a hint of chocolate that's a taste bud treat. If it sounds like a tempting alternative, then you will probably want to start saving your pennies - this coffee's gonna cost you a bit.
You see, Kopi Luwak goes through a pretty unique harvesting process that drives the cost of these beans through the roof. Coffee beans are actually the seed of a cherry-like fruit grown on islands like Java and Sumatra. An animal, much like the raccoon, called a Palm Civet, lives on these islands amongst the coffee trees. It is in these coffee plantations that the Palm Civet helps itself to the ripest cherries on the trees. Only the fruit gets digested and the Palm Civet later poops out the beans.
So instead of getting angry, plantation owners thought they would try to salvage the beans from the cat's feces. Only about 500 lbs (227 kg) of this oh-so-tasty coffee is harvested each year, which means you're going to be paying an arm and a leg for a sip. A pound of this delicacy goes for as much as $300 US ($387 CDN). And the cheapest you'll get a cup of the stuff for is $5 US ($6.45 CDN). Ouch! Seems like a lot of money for recycled (cough, cough) coffee.
In Morocco and Mexico entrepreneurs also rely on animal droppings for their livelihood. They sift through goat dropping for the pits of olives, which are then ground up for oil. The oil is then used for massages and cooking.
And that's not all. There is a certain kind of rice, collected only in China from the nests of the Taiwan Magpie. The birds collect many grains of rice in their mouths and then scatter them in the bottom of their nests. If harvested right away, the rice becomes a very rare treat that sells for hundreds of dollars a bag, around the world. If not collected in time (for example, after the birds have slept in it,) the rice is not sellable.

These things are so true. I know it! These rare, tasty treats sound yummy. Even if they weren't true, I wish they were!!!

Kidz Submit by:
Nickname:
Smartest_gurl
Age:
10
What do you think about these strange products? Are any of 'em real, or did we make 'em up? and tell us what you think!

The last Believe It or Not story was about Back-to-School Urban Legends like, the mystery cafeteria food, a couple's braces getting caught together and the mixing of test papers. Did you fall for these urban legends? Then we tricked ya, cuz none of them are actually true!
Here's what you all thought about Back-to-School Urban Legends:
Believe It or Not?
I think they are all real. 46%
Only the one about the test could've happened. 15%
I guess we never really know what's in the caf food. 15%
None of them are real. They're just stories! 23%
Related Stories: