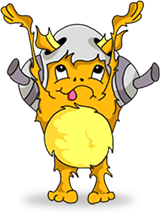 Have you ever been to a live NBA game? Every year I go to see the Vancouver Grizzlies play. It's really cool when you're there live with thousands of people. Even if you're not a huge basketball fan, it's always fun and exciting. Whether the Grizzlies win or lose (and usually they lose), it's still fun because there's so much going on. They have cheerleaders and during the breaks, a big inflatable Killer Whale drops prizes down from the air.(That's because it's in Vancouver and there are whales everywhere). But the highlight of each game is when Super Grizz comes out. He's the team mascot and he dresses like a super hero with a mask and a cape. During half time, he'll do slam dunks off a trampoline with flips and twists. It gets the crowd cheering and yelling. And sometimes the crowd will all stand up and make a wave. If you get a chance, you should definetly go to an NBA game where you live.
Kidz Submit by:
Nickname:Tori
age:14
Have you been to a live NBA game, or another live sporting event? Was it fun? Did your team win?
your reports from a sporting event.
Related Stories: