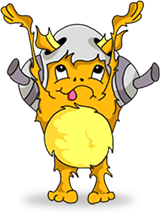 When an evil scientist threatens the planet, courage and true friendship are put to the test in order to save the rainforest in the thrilling animated adventure, Jungle Master, availabel now on DVD exclusively at Walmart, Digital HD, Video on Demand and Pay-Per-View Awarded the Dove Seal of Approval, Jungle Master features an all-star voice cast including Victoria Justice, David Spade, Josh Peck, Jon Lovitz Christopher Lloyd and Jane Lynch.
John Peck as Blue
Courtesy of Lionsgate
Exclusive Clip - Never Before Seen!
When Rainie (Victoria Justice) is accidentally transported from the big city to a magical jungle in an unfamiliar land, she meets Blue. They embark on an epic adventure, beyond her wildest dreams, to help Blue become the leader he is destined to be and save the tropical rainforest.
Victoria Justice as Rainie
Courtesy of Lionsgate
Jon Lovitz as Mulia
Courtesy of Lionsgate
Jungle Master is now available on DVD!
Jungle Master DVD
Courtesy of Lionsgate