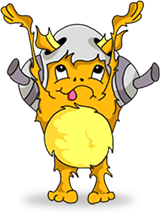 Avril Lavigne - Friend or Foe? Tell us!
- Reviewed by
Kidzworld
on
Dec 27, 2006
( Rating:

)
Kidzworld has received tons of email about why, and how much, Avril Lavigne rocks, kicks and basically rules. Here are some Kidzworld members who just couldnt help but let go when it came to Avril.

When I heard this album at a friend's house, I thought it was just something new and trendy. I wasn't prepared to buy into it. Then I saw the videos on MTV... I found it all pretty patronising and kind of dumb. She only plays guitar once and never at concerts. I think Avril is fine if you want what's new and exciting, and will continue to be for a couple of months. But if you want real musicians, like Michelle Branch, then this isn't a good album.
Kidz Submit By:
Nickname:
maddyihana
Age:
14

Avril Lavigne is the BEST singer in 'da world! If U didn't know that, then U R just plain WEIRD!

Kidz Submit By:
Nickname:
socca gal
Age:
13

Whoa hello! Back the car up! Avril writes and plays guitar? U R so wrong - hello!

Kidz Submit By:
Nickname:
unicorn1
Age:
11

Avril Lavigne is totally cool. She has a really awesome voice. She writes songs that other people are going to like at all ages. She doesn't care what other people think about her.

Kidz Submit By:
Nickname:
avrillavignepink
Age:
12

I think Avril Lavigne is the BEST songwriter/singer in the whole world!!!!! I have her CD and I LOVE it! I'm having an Avril Lavigne b-day party!

Kidz Submit By:
Nickname:
~froggie~
Age:
12

Avril Lavigne is really cool. She says what she wants without really going overboard. Plus, she is an awesome singer & songwriter. I had never heard of her before and then I heard sk8er boi. That song is awesome, along with all the others. I like that she hunts and camps, because so do I. Keep On Going Avril!!

Kidz Submit By:
Nickname:
MyMiniMe
Age:
16

Avril Lavigne is totally 'da bomb. She's truthful, doesn't try to impress anyone, she's a rebel, and she's a small-town Canadian girl. Anyone who doesn't like her must be on some serious drugs. Cut down on the crack all you Avril-haters.

Kidz Submit By:
Nickname:
the_bologna_monster
Age:
12

Avril Lavigne ROX cuz she doesn't have to flash her booty everywhere she goes (like Britney.) Her song sk8er boi is the best and totally blows Britney & Christina into the SEWER. But, there are still those sick, sad little ppl who think she sux - they get blown into the sewer too! lol.

Kidz Submit By:
Nickname:
sk8_chik_22
Age:
16