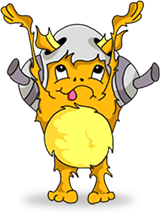 Avril Lavigne - Friend or Foe? (pg. 2)
- Reviewed by
Kidzworld
on
Dec 27, 2006
( Rating:

)
Avril Lavigne | Fans | Let Go | Sk8ter Boi | Anti-Avril | Pictures | Opinions

Avril Lavigne is totally kool! She has the best songs ever! She is, like, THE BEST singer of the year!

Kidz Submit By:
Nickname:
1_cool_gurl2002
Age:
12

Britney Spears is a poser. Avril is not. UNDERSTOOD!?!?! I AM REALLY, REALLY, REALLY, ANNOYED AT ANYONE WHO BAGS-OUT AVRIL, SHE IS THE BEST!!!!!!!

Kidz Submit By:
Nickname:
avrillavignerulez
Age:
16

Avril totaly rocks! She writes her own music, unlike the fake Britney Spears. Lavigne is real - that makes her a great person!!

Kidz Submit By:
Nickname:
avrilfan321
Age:
15

Avril is a punk poser. She and her stupid ties... her songs are not punk just as she claims. She's an embarrassment to the whole skate and punk rock society. Anyone wanna criticize me? It's fact. Those of U who like her, I bet U too are posers, with those ties, and jumping around with your butt cracks, and pretending to slam the guitar. What a loser, that avril is. POSER!! Wonder when she's gonna fade out? Avril's hardcore fans are also hardcore posers.

Kidz Submit By:
Nickname:
hadi
Age:
14

Avril is the best in the world. Avril rocks my world all the time. She dos not go out and look like Britney.

Kidz Submit By:
Nickname:
AL_02
Age:
14
Related Stories: