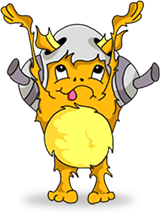 Is Christina Aguilera Too Dirty? Members Respond!
- Reviewed by
Kidzworld
on
Dec 27, 2006
( Rating:

)
Christina Aguilera | Dirrty | Stripped CD | New Album | Music Video | Songs

Christina has got it going on. She rocks and every one knows it! She's just growing up - don't hate her.
Kidz Submit By:
Nickname:kandy_kiss40715
Age:11

I think ya'll need to chill. She is my role model and I like her style, so ya'll need to shut up! Ya'll is just hatin' off the gurl - dang! Everytime someone comes up with something, ya'll always got something to say. Let the gurl make her cheddar, dang.
Kidz Submit By:
Nickname:lil nita
Age:15

Christina Aguilera should ease up on the lack-of clothes. I wanted to put her in a clothing contest, but we didn't put her in it cuz she didn't have enough clothes to qualify!
Kidz Submit By:
Nickname:manunitedkid
Age:15

I Just want to say, her pictures is aight. Just don't sweat it cuz she ain't that cute!
Kidz Submit By:
Nickname:Queeny*1
Age:11
Related Stories: