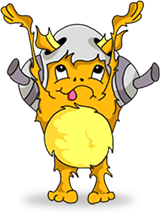 Avril Lavigne - Friend or Foe (pg.4)
- Reviewed by
Kidzworld
on
Dec 27, 2006
( Rating:

)
Avril Lavigne | Fan Feedback | Anti-Avril Opinions | Complicated | Sk8ter Boi

AVRIL LAVIGNE is the only sk8er gurl who has the best looks, voice - and she incredibly composes smash hit songs!!!
Kidz Submit By:
Nickname:
kcire_02_aka_crosfeet
Age:
17

OK, why do you people like Avril Lavigne? Because she's "different?" Look, just because she skateboards, wears dark make-up and ties, doesn't make her "different" or punk. I saw in one of her music videos, Complicated or something, she is singing about being yourself and she is wearing a clown suit while guys are skating behing her. Come on, Avril is garbage. Give me one good reason why you like Avril, PLEASE!!

Kidz Submit By:
Nickname:
mugen
Age:
15

Avril Lavigne is a sexy beast.

Kidz Submit By:
Nickname:
asendedtrunks
Age:
15

Avril Lavinge has the most beatiful eyes and my big brother has a crush on her. He has her CD and posters. PS: I love the song I'm With You.

Kidz Submit By:
Nickname:
punkles
Age:
14

Hey Allo, I don't think you're quite old enough to be in this forum. #1 - if you were a real skater, you'd have to realize that you're not a poser unless you say U R good at sk8ing, but in reality, you suck. #2 - does her being strong really matter? Because I didn't realize being a musician required you to have enough strength to smash a guitar. And, how can you really say how good she is? Were you on the video to see her skate? Didn't think so. Maybe you should re-think yourself, and come up with better reasons to diss people. I think Avril rocks, not many girls skate these days, and if they do - more power to them. It has to be hard enough to keep up practice with skating AND singing. I think you should show some respect.

Kidz Submit By:
Nickname:
Sk8ingRockz
Age:
16

Allo... R U out of your mind? Avril Lavigne is probably one of the most known girls and she kicks butt! U don't need to run your mouth if U don't know what you are talking about. She DOES write her own music and everything. Your just hating because your jealous. Get over it.

Kidz Submit By:
Nickname:
unordinary_gurl
Age:
17

OK GET IT THROUGH YOUR HEADS! Avril does NOT write her own music, she may write some of it, but her co-writers do all the work! And, if you think playing the guitar involves strumming 3 chords in one song, on one album, you are WRONG! She is not the best singer ever! I heard her on TV, live, she couldn't breathe right and her pitch sounded like an asthmatic chipmunk! LORDY, GET LIVES PEOPLE! It's not punk! Listen to some REAL punk - there is a difference!!!

Kidz Submit By:
Nickname:
AvriL_BiteS
Age:
14

Hi Avril fans, I know Avril calls herself PUNK, but it's not true. She is pop/punk unlike Penywise, NOFX, etc. But I still think she great and I love her and her music! I sk8 and thought the sk8er boi song was great. She influenced me 2 write! I also listen 2 real punk bands, but love her! I'm not dissin' her just opinionating! I think she's great. God bless her,the boys in the band, and her family. "ROCK ON!!" guyz and girlz! Bye, bye!

Kidz Submit By:
Nickname:
sk8er girl sal
Age:
14

Avril cant sing, skate, or play guitar. Avril sucks. She's an embarrassment to punks and skaters everywhere. She claims she writes "guitar driven rock" when she sings pop songs and she didn't write any of the songs on her cd. She looks anorexic and claims she has a great body. In her video for Complicated her guitar is already broken before she smashes it b/c she's so weak. I'm suprised that she doesn't get swept away when the wind blows. Avril is a poser!

Kidz Submit By:
Nickname:
Allo
Age:
16

Dude Allo, or whatever your name is, Avril is awesome. You don't know anything. She has a really great voice. And she does write her own music, and how would you know if she's anorexic? She can probably skate, like ride the board and do ollies, it's not like she said she's as good as Tony Hawk or anything. Oh yeah, she already said she wasn't punk. And you should already know the whole punk revolution is dead - that is if you know about Punk.

Kidz Submit By:
Nickname:
SnoBoard_Gurl907
Age:
15

Avril Lavigne rocks!!! How could anyone possibly hate her? She's a gurl with attitude, who knows how to stand up for herself. Good on her!!! If U diss her, it's probably cuz you're just jealous.

Kidz Submit By:
Nickname:
mustang_sally
Age:
16
Still itching to hear more about Miss Avril Lavigne? Keep on clicking!
Related Stories: