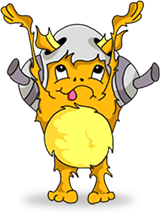 Should You Have to Dissect? Feedback
- Reviewed by
Kidzworld
on
Dec 27, 2006
( Rating:

)
Does the thought of dissecting some animal in science class gross you out? Well quit being a squeamish baby about it and start cutting open some skin. Youre in school to learn, right. - Page 2
Do you cringe when your science teacher tells you what animal you'll be dissecting this year? When the big day comes to cut apart that animal in the name of science do you suddenly come down with a fake illness or do you arrive early to class? Is dissection just another cool part of your biology class? Here's what Kidzworld members had to say.

This is how I feel: I have already taken Biology 1, the state requirement, and we dissected a baby pig. When most people were younger, they probably wanted to see the insides of something. We as humans are curious creatures, some more than others. If you want to be a doctor or work in the medical field, you HAVE TO GET OVER IT. I also think that people in class overreact just a little bit. You go to a movie theater and you see blood or someone die by getting cut open or whatever and we don't flinch. So why do it when you are around your peers?
Kidz Submit by:
Nickname: Slave4U
Age: 16

I think that this form of science is not nessessary and I think it's dumb to use the frogs like this! It's just not fair to them! And people shouldn't have to do this, just to pass science or whatever. I mean, it's disgusting towards the frogs to have to kill them to get a passing grade in science.
Kidz Submit by:
Nickname: sk8er_chica
Age: 14

I think there should be an option for dissecting. Some people don't believe in cutting open things or just don't think it's right to kill animals if it's not for food.

Kidz Submit by:
Nickname: angellove
Age: 11

I had to dissect a frog last year. If I didn't do it, I would fail. I decided to form a protest. I was suprised at how many other kids protested with me. Now because of me, our school gives two choices.
Kidz Submit by:
Nickname: SkylarsStalker
Age: 14

I read your article and couldn't help but think "hypocrites." Well, not necessarily that harsh a word, but come on now. Aren't you the ones always telling us to stand up for what we believe in and that we can do anything we want and not do anything we don't want to? How in the world is dissecting an animal helping us in science? Just because we learn about the human body, doesn't mean we dissect humans to help us see what's inside. And just because we learn in Sex Ed how humans reproduce doesn't mean we have to watch two people actually doing it. Your article really fired me up cuz people seem to think that animals are something we can just use and dispose of easily. Well, the fact is, animals have feelings just as humans do and I doubt they enjoy giving their lives up for our education. There are other ways to learn about what's inside a frog, such as diagrams and displays. So, I guess that not only should kids have an option about dissecting an animal, it should be completely stopped. Next thing you know, kids are gonna be dissecting any animal they manage to get their hands on. Well, not exactly like that, but still. And they wonder why kids are like this these days. It's time for adults to open up their ignorant eyes and realize what it is that's really affecting us kids.
Kidz Submit by:
Nickname: Lil Gavilana
Age: 15

I think dissecting animals is just cruel! Animals don't have voices to speak up but I'm sure if they knew that their purpose in life was to be cut into pieces, they would do SOMETHING about it! The first thing I've ever had to disect at school was a lamb's eye! I didn't eat that entire day! Ew! Gross!
Kidz Submit by:
Nickname: faeriequeen_91
Age: 13
For more feedback from other Kidzworld members, click here!
Related Stories: