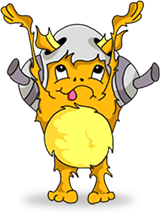 Brushing Up on Your Study Skills (pg. 2)
- Reviewed by
Kidzworld
on
Dec 27, 2006
( Rating:

)
Kidzworld has great study skills and tips that you should know when studying for that big exam. Weve also got useful homework help for kids and teens. - Page 2

When doing your
homework
, do the hardest thing first. That way you can get it finished first and you'll be able to get help on the one you need help on soon..... :)
Kidz Submit by:
Nickname:
ultimateduelist
Age:
14

You study after school, then you study at night so you can see if you memorized it already.

Kidz Submit by:
Nickname:
AgCienia
Age:
11

Don't wait 'til the night before the test to study. If you wait 'til the last minute, you won't be able to go over the things you forget.

Kidz Submit by:
Nickname:
bluegoldtopper06
Age:
14

Hey, you guys and girls out there - If you're having trouble by not even studying I think you should talk to a teacher or adult to get some help. Your friends might make fun of you but remember you will soon be getting good grades and laughing at them instead!

Kidz Submit by:
Nickname:
monkeymeg03
Age:
13

Make a study group with your classmate or bestfriend.

Kidz Submit by:
Nickname:
e_take
Age:
15

Hey everyone out there! If you're having trouble studying, try making flash cards or note cards. Use information straight from the textbook or worksheet, or whatever it is you're studying off of. When you make them, it helps you remember what's on them. And, you can go over them quickly during breaks, or during lunch, or even in another class when you're teacher ain't looking!

Kidz Submit by:
Nickname:
cheerpeach07
Age:
14

Ok, here's the thing - all these tips are all things that I think most of us have already heard from our teachers. Don't get me wrong, they're good suggestions but I think what helps me the most is shut of all your lights in the room your studying in accept for one lamp that's small enoupgh that it will only shine around your page. This helps me concentrate on this. On the issue of music, everyone's different. If you listen to music and you just sing quietly it's fine if you ask me but try to keep most of your thoughts on the evil algebra!

Kidz Submit by:
Nickname:
anti_jock182
Age:
14

Hey you all... If you wanna get good grades, ask your teachers questions when he or she is teaching.

Kidz Submit by:
Nickname:
babychick05
Age:
14

Remember guys and gals, you gotta balance it. Make sure you study a lot but then you have to have some fun as a side dish and some relaxing as dessert but always remember that studying is the main course and those five minute breaks are the appetizers!

Kidz Submit by:
Nickname:
cheeky_chik_lol
Age:
14
Do you have any unique study tips you want to share with Kidzworld?
Related Stories: