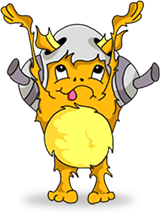 Ethics of Cloning
- Reviewed by
Kidzworld
on
Dec 27, 2006
( Rating:

)
Scientists from all over the world are racing to clone the first human. Some even think they can do it by Christmas of 2001. Is it a solution to problems or the creation of one?
There have been tons of movies about cloning. If you've seen
Jurassic Park
you probably thought the idea of cloning a live dinosaur from part of some prehistoric DNA actually seemed possible. Thanks to Hollywood, it wasn't a big surprise to learn Scottish scientists had cloned the first animal in 1997. Well, it wasn't T-Rex - it was Dolly, a sheep.
After Dolly came another sheep. Then goats were cloned, a prize bull, pigs, cows and mice. If cloning is possible with animals, of course humans will be next. And just recently they announced that human DNA has been cloned successfully. Mother Nature has already produced children who look almost exactly like one parent or the other. When a clone is born, the kid is exactly like the parent. Simply put, cloning is the process of reproducing identical copies of a DNA sequence (the cellular blueprint that determines individual hereditary characteristics.) However, just cuz they look like a parent doesn't mean they will act like them. A clone can be very different from the parent because the clone's personality depends partially on experiences. It's the old nature/nurture mix.
Not everyone is against cloning, especially parents who can't have children for whatever reasons. Since some scientists let people know they plan on cloning a baby by Christmas 2001 or in the next couple years, hundreds of couples and females have come forward for help. Some couples who can't have kids seem to think cloning is the perfect solution. Just provide some DNA and voila! An identical offspring is born.
It's not just couples interested in cloning kids. There are more than a few people who want to bring back the dead. Like I already said, clones won't have the same personality as the person they look like. Some people just can't grasp the idea of losing a loved one and have to have that person back no matter what the cost - but they won't really be getting the same person back, just an identical image.
Speaking of cost, do people know how much it costs to clone? I'm not just talking money here, but flesh and blood. It took scientists 277 tries to make Dolly. That means 276 deaths. When it's animals, that's called an experiment. When it's humans, some call it a crime. Cloning is going to happen regardless and when it does, it won't be the end of the world. At least not for the kids who survive all the experiments.
The latest development in the world of cloning is that Dolly the sheep had to be euthanized (put to sleep,) on February 14, 2003 because of a lung disease. It appears that cloned animals age twice as fast as normal animals and are more susceptible to disease. Scientists will continue to study Dolly's remains for information on the cloning process.

I think cloning is a very costly and expensive form of technology that will fail mostly. So, I think it's okay if humans clone animals. But if we clone ourselves, that might not be a very good idea. If the process fails, then we'll be injured and get a trauma or a mutation in our genes. Eventually, we might actually die doing it.

Kidz Submit by:
Nickname:
Smartest_gurl
Age:
10

I think it would be cool if we could clone. I would do it.

Kidz Submit by:
Nickname:
Mikemillion
Age:
15

I think cloning is a good idea. I see it like an identical twin - they lead their lives fine. Plus, a lot of children do already look like their parents, so what would be the harm in having a cloned child? They wouldn't look absolutely identical anyway because of the age difference. If they tried cloning humans but some died, I don't see how that's any worse than abortions or miscarriages.

Kidz Submit by:
Nickname:
R_Page_midnyte
Age:
16

I don't think we should clone animals because that would be playing God and that's not right. Why clone people? If you can't have a kid, adopt one. What is the point of cloning? If we clone at a later age then they might feel like they don't belong and if we clone at an earlier age then they might get treated better or worse than their siblings. I think we shouldn't clone.

Kidz Submit by:
Nickname:
gcroxmysox
Age:
12

I think cloning is unethical and should be banned and never brought up again.

Kidz Submit by:
Nickname:
Z-Bob
Age:
14

I definitely think we should clone. We could rid the human race of many diseases and help people who can't have children. Plus, even if we decide not to currently clone, in the future, no matter how much you avoid it, cloning will be brought back. Also, if you are afraid that the clone will die, there has never been any gain without suffering.

Kidz Submit by:
Nickname:
americancurlygirl
Age:
13
Would you like to make a twin of yourself? Should scientist be allowed to experiment with human life? Or maybe you think cloning is the perfect solution? .
Related Stories: