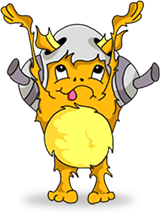 Star Wars Miniatures: Attack on Endor Set Review
- Reviewed by
Kidzworld
on
Dec 27, 2006
( Rating:

)
We review the Star Wars Miniatures: Attack on Endor strategy game set right here!
In the old-skool Star Wars: Return of the Jedi movie a horde of elite troops with giant robots get beaten up by a bunch of stick-wielding teddy bear critters called Ewoks. Lame! Now it's time for you to fix that by unleashing the true power of the Dark Side and taking control of a horde of Imperial troops, plus a giant AT-ST robot, with the Star Wars Miniatures: Attack on Endor expansion set. It's not a regular set that has dozens of figs for you to collect. No, every box has the same thing in it:
AT-ST Walker - A huge two-legged metal robot with giant blasters!
Scout Trooper - A clone warrior scout who can ride a speeder bike.
Stormtrooper - One of the Emperor's elite clone warriors.
Stormtrooper Commander - A commander in the Emperor's clone army.
Maps - Four new maps let you battle on Endor, in a ruined base, a Jedi temple and in a dungeon full of arena beasts!
Mission Book - A new mission book gives you more challenges to try.
The biggest problem with this set is the total lack of
Ewoks
to step on. None. Nada. The mission book doesn't even have any options for all the
wacky traps
the Ewoks used to stomp on the AT-STs in the
Star Wars movie
. It's still a solid box, 'cuz you get an awesome
AT-ST
, but some of the cute furry Ewoks would have been nice.
Star Wars Miniatures: Attack on Endor Thumbs Up:
Easy way to get a huge, powerful, fig!
Goes great with the massive AT-AT Walker.
Ewoks make great jam!
Star Wars Miniatures: Attack on Endor Thumbs Down:
No Ewoks, what the heck?!?
Star Wars Miniatures: Attack on Endor Set Rating:


Age:12 and up
Price Range:

Price Range Legend
$0-$15 =


$16-$30 =


$31-$45 =


$46-$60 =


$60+ =

Related Stories: