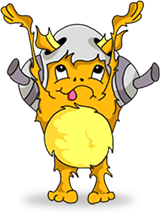 All About Gay Parents
- Reviewed by
Kidzworld
on
Dec 27, 2006
( Rating:

)
First comes love, then comes marriage, and then comes the baby in the baby carriage. So the story goes for men and women, but what about two women or two men who want to have a baby?
First comes love, then comes marriage, and then comes the baby in the baby carriage - or so the saying goes. But we all know that families are lot more complicated than that. Kidzworld takes a look at the issues facing gay parents.
Gay Parents - Where do Babies Come From?
We've got a few questions from members about the technicalities of how gay parents have children. Adoption is one way that gay couples can have children but many gay parents have biological children too. First, the obvious problem - if nature requires sperm to fertilize an egg for a woman to become pregnant, then how do two people of the same gender have a baby? The quick answer is: with outside help. The issue can be a little simpler for lesbian couples. They can turn to a sperm bank where someone unknown to them has donated sperm, or perhaps ask a close male friend. These clinics are run by a professional medical staff and are also used to help heterosexual (straight) couples dealing with infertility.
For gay male couples, adoption and surrogacy are the main two options. Surrogacy is when a woman carries a baby in her uterus for another couple (gay or straight). She could use her own egg or the egg of another woman, depending on the individual circumstances. Whatever the case, a legal agreement would be drawn up before hand giving custody to the gay parents.
Gay Parents - Love and the Law
The law varies in regards to gay parents depending on the country you live in and the individual state. Adoption by same-sex couples is completely legal in Guam, Andorra, Belgium, Canada, England and Wales, Iceland, the Netherlands, Sweden, South Africa, and Spain. Some countries and some US states won't let same-sex couples adopt, but many will. In the US, Florida is the only state that completely prohibits adoption by same-sex couples but Mississippi, Oklahoma, Colorado and Utah all make adoption by same-sex couples impossible by only allowing married couples to adopt - and gay marriage is illegal in those states. The American Psychological Association supports adoption by same-sex couples as do many academic bodies, who say that there is strong data that children raised by gay couples are no different than those who are raised by straight couples.
Kidz Submit by:
Nickname: SummerCutie341
Age: 16

I don't think that being gay is right. When I get married, IT WILL BE TO A MAN!
Kidz Submit by:
Nickname: BMA
Age:12

I really don't agree with SummerCutie341 but she has a right to her opinions. Some people grew up thinking that if you're not heterosexual then it's a sin. But I personally think it's OK and it is a person's choice who he/she wants to be with. I'm personally planning on getting married to a man, though, so I do agree with SummerCutie341 on that one.
Kidz Submit by:
Nickname: joahnie
Age:13

Thanks for writing this from a good point of view. Everyone should be able to have kids, even if they are gay. I have two moms and they are my favorite people in the world. I wouldn't pick diffrent parents for a million dollars!
Kidz Submit by:
Nickname: kizzy333
Age: 13

I'm not gay but I really dislike homophobic peeps. If two peeps of the same sex are in love, what's the harm in it? My mum's friend is a lesbian and she hasn't changed. She's a really loving parent too. It's da bomb!
Kidz Submit by:
Nickname: darnpplz
Age: 16

I am a bit curious... so if gay parents have kids, how do the kids themselves feel? Wouldn't they need a dad too? What are your views on that?
Kidz Submit by:
Nickname: chata bird
Age: 14

I don't agree with cheergirl_dolphin. I don't care if they are gay or not. Let people be who they want to be.
Have Your Say
Do you have gay parents? Or do you know anyone with gay parents?  Comment below and let the other KW users know