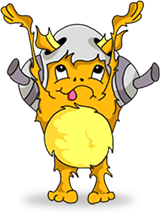 Superheroes. The world would be lost without them. Who would leap tall buildings in a single bound? Who would fight villains in epic battles of good vs. evil? We're taking a look at our favorite cartoon superheroes of all time!
#10. Best Superhero - The Flash
The Flash is the fastest superhero around. The Flash's super-speed, super-reflexes, and ability to violate some of the laws of physics makes him a great superhero, but it's his wicked red and gold suit that secures him a place in our top 10!
#9. Best Superhero - Green Lantern
Green Lantern's "Power Ring" gives him control of the physical world. Green Lantern was unique because there were actually several people who wore the Power Ring. Guardians of the Universe chose worthy candidates to wear subsequent rings and those individuals made up the Green Lantern Corps.!
#8. Best Superhero - Wonder Woman
Wonder Woman's regal heritage (she's a princess, you know!), '70s-inspired outfit, invisible jet and "Lasso of Truth" all make her one of the kitschiest, most stylish, and all-around coolest superheroes out there. She can commune with animals, has super-strength, is resistant to magic, and is able to regenerate when she's injured. In fact, there's not a lot this woman CAN'T do - except have a bad hair day.
Wonder Woman Animated Trailer
#7. Best Superhero - Wolverine
Not only is he one of the most intimidating superheroes around, Wolverine also has one of the longest lists of abilities too. He has an ability to regenerate, ages slower than others, has super-strength and stamina, resistance to telepathy, and - best of all - those retractable metal claws.
Ultimate Wolverine Vs. Hulk Trailer
#6. Best Superhero - The Incredible Hulk
The Incredible Hulk's temper was both his weakness and his strength. Sure, sometimes he lost it at inopportune moments, but he could usually harness his rage (and accompanying super-strength) to battle the bad guys. Just don't make him angry. You wouldn't like him when he's angry.
THE INCREDIBLE HULK #1 Comic Book Trailer
Click here to check out the top five cartoon superheroes!
Related Stories: