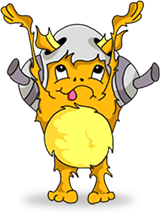 Built to Cheat
- Reviewed by
Kidzworld
on
Dec 27, 2006
( Rating:

)
It sucks when someone youre playing against is cheating. But what about when a company makes computers that are designed to cheat? ASUS did just that. Their video cards are brutally unfair.
This whole mess started about a year ago. In June of 2000 the computer company ASUS designed a video card that, when it used the right drivers, let you cheat like a dirty rotten scoundrel. ASUS bragged about the ability to cheat and used it to try to sell more cards. "Never compete in the 3D games with anyone who has an ASUS VGA card. Because the only result is to loose," said ASUS. Not only were they bragging about being serious losers but they couldn't spell either. (It should be lose not loose.)

What these cards do is let you use Wireframe View, Transparent View and Extra Light modes. Using these you can:
Transparent View
Wireframe View
Extra Light - Crank the amount of light in a level. If everybody is crawling around in a pitch black level, tripping over boxes and running into walls the ASUS card user can increase the light so they can see everything perfectly.
If you combine Transparent View and Wireframe View you'll be able to see everybody through walls halfway across the map. Ouch! Wicked to have but totally unfair if only one person has it.
ASUS
ASUS
What do you think about it? Someone tried to make a buck off of ruining your ability to play a fair game. to vent about it.

They cant even spell for crying out loud. They are bragging but they never reached the streets and they tell u cheats on the game when they could look it up on the internet!! I mean thisguys are soo stupid.

Kidz Submit By:
Nickname:
mikedollar
Age:
16
Related Stories: