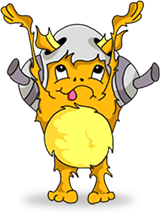 The Musketeer Movie Review
- Reviewed by
Kidzworld
on
Dec 27, 2006
( Rating:

)
Grab your sword, stick a feather in your hat and get ready to ride your horse off to medieval France. Justin Chambers is DArtagnan, or at least he tries to be. Catch the KW review.
What can you say about a film where the French hero can't pronounce his own name with a French accent?
The Musketeer is a story about the heroic escapades of D'Artagnan (Justin Chambers) in a time when France was on the verge of a war it couldn't win. The King was a wuss, the Queen had attitude and the Cardinal was a backstabbing weasel. Add in one big bad villain in black, the Musketeers and about 13 million peasants and you've got the plot of this movie.
The action scenes make the film work - they're awesome. The heroic sword fighting, blazing muskets, huge cannons, castles and wicked moves rock the house. The fight coordinator, Xin Xin Xiong, deserves a jumbo cookie for his excellent work. The final fight scenes totally kick-butt. The tower-climbing sword fight and the awesome ladder-jumping duel are worth watching twice.
While the fighting is impressive, the rest of the flick needs some help. D'Artagnan can't pronounce his name, his French accent fades in and out, the tunes hurt and the acting just doesn't cut it. The movie tries to be serious and goofy at the same time but can't quite pull it off.
If you're gonna watch this flick, don't take it seriously. Show up looking for a goofy movie with cool action - ignore all the serious stuff and you'll have fun.
Rating:

Rather than hiring a Musketeer to deliver us a message, why not to us? Related Stories: