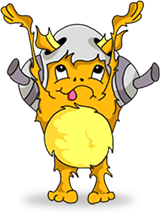 Birthdate: March 20, 1986
Birthplace: Yonkers, New York
Lady Gaga (real name: Stefani Joanna Germanotta) may seem like a new face on the music scene, but she's been making music since she could talk—she even remembers singing along to Michael Jackson and Cyndi Lauper as a little girl.
Cyndi Lauper is a likely style influence, but Lady Gaga has definitely cemented her own edgy look with her colorful, flamboyant outfits and an outrageous 80's glam style. Her thick, blunt bangs and long, platinum blonde hair are her signature look, but questions arose when Christina Aguilera appeared on the MTV Video Music Awards sporting the same cut and color. Lots of people in the media accused Christina of copying Lady Gaga's look but GaGa was civil.
She said: "A lot of people have been saying that she is copying my style with her new song. I guess it bears somewhat of a resemblance but I wouldn't say she is copying me. This type of dance music is becoming more popular and I don't blame her for wanting to make and perform it. Her performance was great and it's [Keeps Getting' Better] a hot track." (Blender) Lady Gaga is totally a down to earth girl, but she's got an out of this world sound!
Hot Tracks from The Fame:
Just Dance, Beautiful, Dirty, Rich, Poker Face
Related Stories: