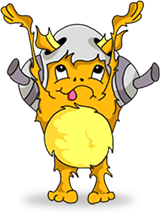 Avril Lavigne Opinions - Love Her or Not?
- Reviewed by
Kidzworld
on
Dec 27, 2006
( Rating:

)
On page 2 Kidzworld has received tons of emails about why, and how much, Avril Lavigne rocks, kicks and basically rules. Here are some Kidzworld members who just couldnt help but let go when it came to Avril.

Here's a message 4 those who don't like Avril... u suck, dude! I guess Avril is the cooolest singer on the planet. I mean, who else is? Like, everyone knows Britney is sooo stupid... then whom like R U gonna call, Destiny's Child or something? Avril rules, rocks.
Kidz Submit By
Nickname: ottorocket
Age: 15

Avril's pretty kool. For the first time, some young chick stepped out and said something for all of us that are just trying to let the world know how we feel. She's great... she's gonna go places... and I think she should make movies.
Kidz Submit By
Nickname: MistykalQT
Age: 16

Avril Lavigne rocks and influcences me, and I love her lyrics and stuff. I always listen 2 her when I'm upset, so don't diss her. I sk8 and it rocks! In true Avril style, "ROCK ON!"
Kidz Submit By
Nickname: sk8er girl sal
Age: 14

If I want to see a buttcrack, I'll just hire a plummer. At least then my pipes would get fixed.
Kidz Submit By
Nickname: hanny_kicks_box
Age: 16

I don't believe it, I love her. She rocks! Even a guy like me would fall for her, dude! She's so beautiful and cute - and I love her songs and her video is more than cool, not like Britney and some other artists who only wear a bra and underwear, eeewwww! What a turn-off, especially when it comes to guys. I suggest that they should not wear anything b'coz they are actually just wearing a bra!!! Yuck!!! Avril is different. I love her fashion w/the neckties. It's so cool. In her songs, everything is perfect! All the dudes out there who love Avril, you rock. And all the anti-Avrils, you STINK! Keep up the good work Avril - rock on!!! And for my gratitude for you, I will give you a kiss...mwah!
Kidz Submit By
Nickname: avrilrulz
Age: 14
Click here for more passionate opinions on Avril Lavigne!
Related Stories: