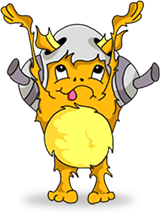 Avril Lavigne - Friend or Foe (pg.3)
- Reviewed by
Kidzworld
on
Dec 27, 2006
( Rating:

)
Avril Lavigne Fans Feedback | Anti-Avril Opinions | Sk8ter Boi | Complicated

AVRIL LAVIGNE IS BEAUTIFUL. HER MUSIC IS SO COOL! SHE SHINES WITH MAGIC IN HER EYES.
Kidz Submit By:
Nickname:
Grunger
Age:
15

Avril Lavigne is real cool, I'm going to her concert! We're all telling what we think about this, why criticize what someone else says? Well, I'm not going to worry about that no more because they're just losers seeking attention.

Kidz Submit By:
Nickname:
Avriltracks
Age:
11

You know, Avril Lavigne is, like, the hottest person around these days. Other artists better watch out for her. This Canadian is rising to the top very quickly and she is only a teen. Madonna set a record for the most weeks at number one(10 weeks) with her song entitled Music. Leave it up to Avril, baby, because she broke it with 11 weeks. Believe it, yes, a 17 year-old broke the record. Did you know that she was nominated for 5 Grammy's and it was only her first year? That hit album, entitled Let Go is an awesome one!

Kidz Submit By:
Nickname:
tikiman07
Age:
15

Ok, Avril Lavigne sucks. She is full of herself, for one ("I invented the whole tie look.") She is not talented. She says she hates pop music... what does she think SHE sings? She says she doesn't wear makeup or pout for photographers. Funny, everytime I see her she has about 8 pounds of eyeliner on and she is trying to look upset or hurt or whatever. As for her playing the guitar - I have yet to see this. She has one WITH her a lot, but she's usually throwing it through a window or something - you know, being a REBEL. OOOOH! That's all I have to say.

Kidz Submit By:
Nickname:
PrettyInPunk18
Age:
16

I love everything about Avril, she's the bomb I really like her songs Sk8er Boi and My World.

Kidz Submit By:
Nickname:
sk8ergurl005
Age:
15
More Avril opinions, Click here!
Related Stories: