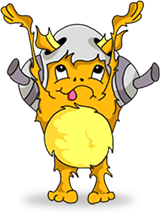 Quiz the Coach: I Have No Time to Exercise!
- Reviewed by
Kidzworld
on
Dec 27, 2006
( Rating:

)
Quiz the coach helps teen and tweens with sports and fitness related issues and problems like obesity, healthy eating questions, skateboard tricks and P.E. dilemmas. - Page 1
So ya dig sports but need some help with your game? Don't understand some of the rules of football, basketball or hockey? Got a gripe about P.E. class, skateboarders, cheerleading, coaches, or anything? Why not ?

Hey Coach,
Kids at school make fun of me because I am short and way overweight. I mean, you can see the rolls of fat through my shirt! How can I exercise when I have absolutely NO FREE TIME and the first dance is coming up in a few weeks? No one will want to dance with the fat kid.
aragornrox
Dear aragornrox
Dude, you're talking like one of those
crusty, old parents
. According to your email, you're 14, so I'm betting you don't have a
full-time job
and kids to take care of. So, why are you so busy and what are you busy doing that
doesn't involve some exercise
?
The best part about being a kid is getting to spend Saturdays goofing off in the park with friends or taking cool classes, like karate, while your parents pay for 'em. There is no magic cure to lose weight - it's just plain, old exercising and eating right. Find a sport or activity that gets your heart rate up and you'll probably shed those extra pounds. Since you obviously like dancing, why not take dance class? And as for peeps who pick on ya because you're short or overweight - they aren't worth your time.
Do you need tips or advice on sports, fitness or health? to the Kidzworld Coach. Keep in mind peeps, the Kidzworld Coach isn't a doctor or a professional athlete or anything like that. He's just a dude who digs sports, plays 'em and knows a lot about 'em. You should always talk to your 'rents, a doctor or your school gym teacher before starting a new sport or a new exercise.
Related Stories: