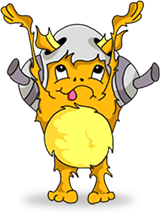 Michael Jackson - What's Your Opinion?
- Reviewed by
Kidzworld
on
Dec 27, 2006
( Rating:

)
Everybody from P.Diddy to Alicia Keys to Liz Taylor has an opinion on Michael Jacksons arrest on child molestation charges - now its your turn to vent.
Okay, you'd have to be living under a rock to not know that Michael Jackson is in some serious hot water with the law. And, like always, it seems everyone from Alicia Keys to P.Diddy has an opinion. Kidzworld wants to know what you think! Check out the facts below and then weigh-in on this very serious subject.
Michael Jackson: The Charges & Arrest
On Wednesday November 19, 2003 an arrest warrant was issued for the king of pop, Michael Jackson, in Santa Barbara, California. Santa Barbara County Sheriff, Jim Anderson, told the media: "An arrest warrant for Mr. Jackson has been issued on multiple counts of child molestation."
Michael Jackson was in Nevada at the time but flew back to California and surrendered to police. He was "booked" - meaning they took a mug shot (picture) of him, his personal information and set bail. Michael Jackson posted the three million dollars in bail and returned to Nevada.
What Do You Think about this Michael Jackson Case?
Michael Jackson Responds to Charges
Reps for Michael Jackson completely deny all the charges against him saying, "The outrageous allegations against Michael Jackson are false. Michael would never harm a child in any way."
Michael Jackson has launched a new site, www.MJnews.us where he is personally defending himself against the charges against him. In his first statement posted on the new site, Jackson says, "As you know, the charges recently directed at me are terribly serious. They are, however, predicated on a big lie. This will be shown in court, and we will be able to put this horrible time behind us."

I think Micael Jackson is way creepy. I hate his music too. I get creeped out just looking at his picture.
Kidz Submit By:
Nickname:brat_chic2004
Age:10
Related Stories: