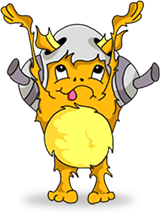 The Easter Bunny is only busy once a year for the Easter holiday, but what a busy time it is! Check out the deal on who he is and what he does cuz he's not just a delivery boy with a basket full of eggs.
Hip-Hoppin' Fun!
It takes much more than a map and a good sense of direction to scatter brightly-colored eggs for kids to find. First of all, the Easter Bunny has to have incredibly strong leg muscles cuz he doesn't walk - he hops everywhere! All that hopping can get pretty tiring, but he never runs out of energy cuz he's hyper from all the sugary candies and chocolates he nibbles on while he's working. It's also important to be extremely creative and have fantastic artistic skills. Did you actually think that the Easter Bunny bought pre-decorated eggs from the store? No way! This pastel-obsessed rabbit lovingly paints each and every egg!
All About the Easter Bunny
Having a Sweet Tooth Isn't So Sweet
A diet rich in candy and chocolate is really bad for your teeth, so this rabbit has to make regular trips to the dentist - what a pain! Maybe the Easter Bunny should take a cue from Bugs Bunny and stock up on carrots. They're high in vitamin A, which keeps you healthy with strong bones, sharp vision, shiny hair and a clear complexion.
How Much $$$ Does the Easter Bunny Make?
Like most holiday peeps, the Easter Bunny doesn't make much moola, but he's not one to complain. Working once a year means that he gets to go on lots of relaxing vacations and munch on any leftover candy, chocolate and marshmallow treats - nothing beats that!
Related Stories: