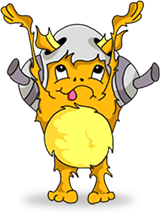 Harry Potter: Quidditch World Cup Game
- Reviewed by
Kidzworld
on
Dec 27, 2006
( Rating:

)
Harry Potter is coming to play Quidditch at your house! Find out about the Harry Potter: Quidditch World Cup video game for PS2, Playstation 2, Nintendo Gamecube, Gameboy Advance & SP, Microsoft Xbox and PC!
The magical world of Harry Potter and the Hogwarts School of Witchcraft and Wizardry is bringing
Quidditch
to life like never before! Electronic Arts has their best game wizards hard at work on making the
Harry Potter
: Quidditch World Cup video game for the
Playstation 2
, Nintendo
Gamecube
, Microsoft
Xbox
,
Gameboy
Advance and
PC
!
Harry Potter: Quidditch World Cup puts you in control of an entire team of Quidditch players from Hogwarts. You can play Harry Potter's champion Gryffindors of course, plus Ravenclaw, Hufflepuff and even Draco Malfoy's Slytherin scumbags. The Hogwarts teams can play to win the Hogwarts Cup. Or, you can play for the World Cup against eight different teams including the Bulgarians, England, USA, Japan, Australia and more.
The best thing about Harry Potter: Quidditch World Cup is that you'll be able to go online and play broom-to-broom multiplayer games against your friends to see who can catch the Golden Snitch!
All you Quidditch champions have until the fall of 2003 to master your moves, warm up your Nimbus 2000 broom, practice dodging bludgers and get ready to catch the famous Golden Snitch!

Kidz Submit:
I really like the idea that EA Games is coming up with a Harry Potter Quidditch World Cup Game. I can't wait to play it.
Kidz Submit By:
Nickname:
Cosmic Candy
Age:
13
Rating:
5

Kidz Submit:
This is the best idea for a game ever. Ever since I read the 3rd book about Victor Krum I was wishing they would create a game like this and finally they have.
Kidz Submit By:
Nickname:
MasterT009
Age:
16
Rating:
5
Related Stories: