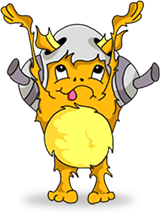 The Mummy Returns Movie Review - Kidz Submits
- Reviewed by
Kidzworld
on
Dec 27, 2006
( Rating:

)
The Mummy Returns is supposed to be bigger and better than the original. Wondering if it measures up? Tommy and Peter have posted opinions on the original and the sequel. Check it out!
The Mummy
My favorite movie is
The Mummy
! It has my favorite movie star, Brendan Fraser. He's the best part of the movie.
It's about these people who broke into a mummy's tomb looking for loot. Suddenly, some people read an ancient spell which revived the mummy, and the mummy was coming for revenge. I like the ending when Brendan Fraser stabbed the mummy.
Rating:

Kidz Submit By:
Nickname: Peter
Age: 12
The Mummy Returns
I like the movie
The Mummy Returns
because it's a cool movie. It has a lot of action to it and it is better then the first movie.
It's like the first movie The Mummy but the mummy's wife that was reincarnated summons him and he tries to take over the world. Some of the characters are from the first movie, The Mummy.There are only two new characters. This movie has more action then the first and more drama.
Rating:

KIdz Submit By:
Nickname: Tommy
Age: 12
Related Stories: