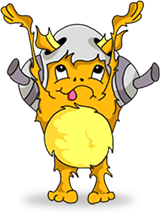 Junior Senior :: d-d-don't don't stop the beat CD Review
- Reviewed by
Kidzworld
on
Dec 27, 2006
( Rating:

)
Junior Seniors CD, d-d-dont dont stop the beat has punk, pop and rock all rolled into one. Check out their danceable tunes and funky lyrics right here!
There's nothing heavy or moody about Junior Senior. This Denmark duo is all about keepin' it light - while keepin' it real. Junior Senior's first album,
d-d-don't don't stop the beat
, has something for everyone.
Junior Senior Perks
Some tunes on this album have a
punk feel
, some have a
pop
feel and some, like
Dynamite
, have a classic
rock
feel. We're talking a
Rolling Stones
quality - and those old dudes with the tongue logo have been around forever, so
Junior Senior
could do worse than sound like them!
Move Your Feet
is the first single and it's a
great dance tune
.
Shake Your Coconuts
will definitely have you shaking your booty! There's a lot of good, stylin' beats off
d-d-don't don't stop the beat
and Junior Senior's got enough
talent
to keep the tunes decent from track 1 to track 11.
Junior Senior Pitfalls
If there are any cons about Junior Senior's
d-d-don't don't stop the beat
it's that, you really have to be in a perky mood to throw it into your player. If you're feeling all
Avril-Lavigne-moody
, this CD will probably just make you
more grumpy
rather than pick you up.
Rating:

Related Stories: