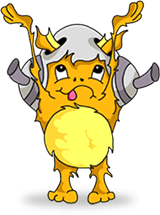 Every 4 years the most anticipated sporting event brings together the world for FIFA's World Cup. This year, South Africa becomes the first ever African country to host the World Cup cementing soccer as the World's Sport.
World Cup 101
World Cup 101
Here are some more facts about the World Cup to help you understand how it's all put together:
The tournament takes place for one whole month. 64 total matches will be played between the dates of June 11th and July 11th, , 2010.
The World Cup features 32 countries that have qualified through other tournaments with all other countries of the World.
The players must play for the country where they were born or have citizenship. If players have citizenship in multiple countries, those players always play for the country where they were raised.
The World Cup starts with the teams divided into 8 groups for round-robin action named after the first 8 letters of the alphabet.
Teams earn three points for a win, one point for a tie. Goal differential and total goals scored are used to break ties in the standings.
The top two teams in each group will advance to the elimination rounds.
In the past 18 World Cups, only seven countries have won since 1930. All previous winners have qualified this year: reigning champion Italy, Argentina, Brazil, England, France, Germany and Uruguay.
Injuries and Star Stories
World Cup 101
Unfortunately there are many Soccer Stars that have injuries this year. Here's some of the big news about the big players:
England: Bad news for the Brits as David Beckham will not be playing due to an injury and Wayne Rooney is also hurt and may not play as well.
Spain: The good news is that Spain could be the favorite to win the World Cup this year, but many of their players are recovering from injuries: Playmaking wizard Xavi is recovering from a torn calf muscle. Striker Fernando Torres had knee surgery in April, and midfielder Cesc Fabregas broke his right leg in March.
Germany: Star Captain Michael Ballack has torn ankle ligaments. Without Michael, Germany has little chance to make it to the Finals.
Ghana: Super-striker Michael Essien also suffered an injury to his knee in January. Without Michael, Ghana will be desperate for offence as Michael is their only striker.
Brazil: Memorizing Kaka has played in previous World Cups shadowed by teammate Ronaldhino. This year Kaka is the big star in Brazil. Kaka has the dreaded groin injury, so he'll have to fight through it to bring Brazil their 6th title.
Ivory Coast: Power striker Didier Drogba was the latest to fall to an injury, suffering a broken arm late last week knocking him completely out of the tournament and also any chance for the Ivory Coast.
Cameroon: A possible African breakout star is Samuel Eto'o, but he'll need some support from his teammates if they want to get to the finals.
Argentina: Superstar Lionel Messi is healthy and he is totally ready to lead Argentina for their 3rd World Cup title.
Portugal: Sensational Cristiano Ronaldo is the biggest superstar soccer player in the World. He's at the peak of his career and he could lead Portugal to their first title ever.
USA: Does the US and Landon Donovan have a chance? Not really, but they always have exciting matches and who knows what magic might come.
Italy: The Reigning Champions aren't expected to win again, but with the best goaltender in the World, Gianluigi Buffon, if the Italian defense can get to penalty shots every game, they could win again.
Going for Gold
World Cup 101
With all the injuries of star players, don't think that the skill level of the tournament will be any less entertaining. The teams are full of amazing athletes, and there is always amazing stories. The World Cup is the most wanted trophy in Sports history… let the drama begin!
Related Stories: