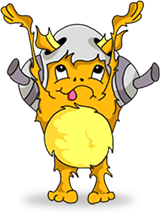 By: Lynn Barker
In Part 1 of our article about our visit to the Disney Animation Studios in Burbank, California to discover how the new animated musical film Frozen was put together, we told you all about the story and "look" of the movie. Now it's time to talk with animators and computer artists about how they brought the many characters to life on screen. We even get to go hands on and operate a motion capture camera and manipulate our own computer version of snowman Olaf.
Kidzworld reporter operates a Motion Capture camera
Courtesy of Walt Disney Animation
Acting Through Animation – We are with the animators: Lino Disalvo Head of Animation, Wayne Unton (Animation Supervisor), Becky Bresee, (Animation Supervisor). 
Wayne Unton, Becky Bresee and Lino Disalvo
Courtesy of Walt Disney Animation
Lino Disalvo tells us that his department got the script a couple of years ago and knew what a huge project and big movie it was going to be. Many of the animators actually act out the scenes they have to create. An acting coach was brought in and talked emotions in detail for every main character. What are they feeling and when?
The voice actors record their roles before the animators start "drawing" and many came into the studio to talk with the animators as well. Idina Menzel who voices Elsa talked about singing, when she takes a breath to sing, etc. and they incorporated that in her character.
Then animators worked on designs and facial expressions in lots of small sketches for each of the character's emotions. We see whole big sketch sheets on Anna, Hans, Elsa, Kristoff and Olaf the snowman. Each character expresses their emotions a different way. All throughout the process, Pixar head John Lasseter has to approve.
Anna's Facial Modeling sheet
Courtesy of Walt Disney Animation
It was decided that Olaf, as a real snowman, would have stick, unbendable arms and a carrot nose, etc. Josh Gad played him as more of a naïve child. They then define the characters in a very simple "walk on" drawing, like a live action actor's screen test. Each character would walk and move differently. We are shown these screen tests. The goal was always to create a believable character performance.
We see part of the story reel with the Elsa character singing a power ballad called "Let It Go" (Idina Menzel's voice). It's a rough storyboard first then animation is built on step by step. Animators actually act a scene out themselves as if they were the character with all the feelings involved and then they make more sketches incorporating what they learned. All these details make the performance on screen better.
Happy Olaf dreams of Spring
Courtesy of Walt Disney Animation
Animator Becky tells us about her process. She video records herself acting out a scene playing the Anna character. She even got her two daughters and husband to act with her and used some of those ideas in animating Anna.
What about non-human characters? How did they animate cute Sven the reindeer?  Lino says the animators do lot of research so they brought a real reindeer in for the animators to watch. "They do nothing. They chew their cud. The trainer said 'they are almost as smart as a cow'." Ooookay. Sven's character needed to be fun. They ended up basing Sven on racing reindeer and John Lasseter's big lab and Lino's French bulldog's personalities. Reindeer aren't too smart, don't speak but can react to humans like a horse or dog.
Goofy and sweet Sven
Courtesy of Walt Disney Animation
The Character of Snow – We are told all about the creation of the special snow for "Frozen" on computer. Evan Goldberg, Animation Technology Manager,  Marlon West, co-effects supervisor, Dale Mayeda..same and Andy Sulley principal software engineer are on a Motion Capture Stage like at DreamWorks but smaller and they don't need to use actors with digital dots on motion capture suits. 
The Motion Capture stage with Evan, Marlon, Dale and Andy
Courtesy of Walt Disney Animation
We're shown various shots done with motion capture in the film. They art direct the special effects. Marlon says that the big challenge was snow and ice and Elsa's magic; giant snowflakes she made as a child then later, they developed her elegant magic using snow and ice as a weapon. The shots are planned out in hand drawn animation first, then computers are used to flesh it out from 2D to 3D. We see frost growing over a fountain.
Dale says that the guys got a professor from Cal Tech who has studied how snowflakes form in real life to come show them. We see one growing; a tiny ice crystal that branches out and plates (making a more solid shape). The animators created their own snowflake generator program to build 2,000 different snowflake shapes they could use. When Elsa builds her ice palace, it grows from one snowflake. We see this sequence from the film. Gorgeous.
The guys stressed that there was a lot of character interaction with snow; slogging through, digging in it etc. A program called Snow Batcher gives them a selection of looks. The problem was in tight shots of snow. They needed better snow simulation techniques to make the snow believable; chunky versus powdery, packed, etc. so they invented a program and called it Matterhorn. We see their computer-generated snow rolling down a hill and picking up more. It looks totally real!
Gorgeous snow shot
Courtesy of Walt Disney Animation
Operating the Motion Capture Camera! - We get a live demo from Evan on what the layout and camera motion department does using their motion capture equipment. The "camera" looks like a complicated screen on the end of a metal bar you carry over your shoulder or tie down to an anchored tripod so it's steady.
Six cameras around the room translate the cameraman's movements to the computer. When the motion capture camera moves, the object moves in the computer. Up and down left and right, a fast "pan" shot as a character runs by etc.
A reporter gets to be a "layout artist", take the camera and move around the room, making the computer do just what he does; look up at the sky, down at the ground.. We see a ship falling over on screen.
I get to be the cameraperson and make the ship on screen appear to rock as it falls over and later, they put the camera on a tri-pod and I get to pan it from left to right to follow reindeer character Sven running quickly past the ship. On screen, the camera makes this move. You can zoom in, etc. Very super cool!!!
Rigging Lab-  We are taken into a big cold room full of computer stations. All are using the Maya program and have snowman Olaf on a left screen and various controls to move him around on a right screen. Telling us how rigging works are Frank Hanner, Character CG Supervisor, Keith Wilson, simulation supervisor and Greg Smith rigging Supervisor.
Frank, Keith and Greg in the Rigging Lab
Courtesy of Walt Disney Animation
The guys tell us that the rigging department builds character rigs, cloth (wardrobe) rigs, hair rigs and running simulation rigs.  So, what is rigging? Rigging makes each animated character move correctly. This includes facial moves too. Riggers build skeletons on the characters, muscles and skin and make sure it all moves properly. They build computer controls so the animators can push and pull those bodies around. Eyebrows, mouths etc. controls are also built.
Frank tells reporters about Elsa and Anna's hair in the Rigging Lab
Courtesy of Walt Disney Animation
312 unique character rigs were created; more than on any other Disney film. There were also 245 cloth simulation rigs and 63 hair rigs, more than on any other Disney movie too. Lots of characters wear braids in the movie and this is hard to create. The wizards invented a program called Tonic that lets artists do layered hair. It's like sculpting hair. You can push and pull and wind the strands like real hair. We see the Anna character with a bushy "bedhead".. before they "fixed" her hair.  Funny. 
The Motion Capture stage wizards
Courtesy of Walt Disney Animation
Elsa has 420,000 hairs on her head. An average human has about 100,000 hairs. Her hair is thick and lustrous. Rapunzel from Tangled had only 27,000 hairs! The riggers improved the hair-making system, grooming and rendering it in computer.
Elsa in an elaborate hairstyle
Courtesy of Walt Disney Animation
Keith talks costumes and we are shown pictures of various outfits, ballgowns etc. formalwear in the 1850's. All have full petticoats that add to the motion. The outfits are very heavily layered.. again, it's cold!  There are box pleats on Anna's skirt. How would it move when she ran or was in the wind? Wool moves differently than light silk.
We see a scene in which Anna moves and her skirt moves like in real life. And another, a mistake where it flips up and whacks her in the face!  Motion can go on top of motion, like a stirrup on a horse moves as the horse is running. We are told how to work the Maya program in computer and see how they allowed the sticks on top of snowman Olaf's head move a bit.  He's a rigging challenge because some of his stick limbs can't bend but he can melt and take himself apart and reassemble. He can use his stick arm as a crutch.
Hands on time! I use the rigging controls to move all around Olaf on screen even under him, make him bigger or smaller, fatter or thinner, then use controls to move his eyes, make his head turn and make his carrot nose longer like Pinocchio. I decide to break the rules and bend his stick arm into a wave.  Another fun, interactive part of the day.
Your reporter in Rigging Lab
Courtesy of Walt Disney Animation
Wow, who knew all the detail and the hundreds of people it takes to bring a Disney animated film to life? When I see Frozen this November, I'll pay more attention to all the details!
Frozen is in theaters November 27th!