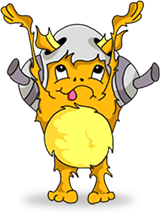 By: Lynn Barker 
We're taking you back to Pixar! Before sitting down to hear all about how the artistic wizards at the famous animation company created Monsters University, we were given a tour of the whole "campus". What a cool place to work!
Come along with us on our Pixar tour. Check out the video and be a Pixar "insider"!
The Tour 
Inside the Steve Jobs Building we entered a beautiful open first floor with gourmet restaurants, coffee shops, cereal bars, a company store and places for workers to kick back, play pool and, if they want, cook up the next Pixar Oscar-winning film! As reported all over the web, in the pipeline from Disney/Pixar are The Good Dinosaur, Inside Out, Finding Dory (continuing the Nemo story) and much more! We were not allowed to see any of the top secret artwork in progress for these and more upcoming films so certain areas were off-limits.  
Models of Bruce the shark and Dory and Nemo
Courtesy of Disney/Pixar
Various sculptures from classic Pixar films like Finding Nemo and The Incredibles and even giant Lego versions of Toy Story's Buzz and Woody were on display. Like a wall of your own family pictures at home, various Pixar workers are shown working and researching. One photo wall was a tribute to Brave showing workers actually holding bows and shooting arrows and there were pix of John Lasseter in the halls chatting with various staff members. Artists were pictured on location researching everything from a garbage dump to posh Paris (for the film Ratatouille.)
Buzz and Woody as Legos!
Courtesy of Disney/Pixar
There are two wings upstairs; West and East Galleries where artwork from films is displayed. There is also a chance for talented Pixar artists to shine separately with entire displays of their personal works done outside of the studio having nothing to do with Pixar films. These lucky artists are given receptions in their honor. 
Monsters U artwork and a Pixar pool table
Courtesy of Disney/Pixar
There is a Story Corner where the entire storyboard process is explained and displayed. We noted a sign on the wall reading "Story is Refinement" (gotta tweak it until it's perfect). We are told that when the studio started here, hand-drawn artists' offices were on one side of a hall with the computer tech artists on the other side. Now they mix it up a bit. 
Oozma Kappa living room wall art
Courtesy of Disney/Pixar
The East Gallery concentrates on the current or very recently released Pixar film with artwork that changes when the next film takes over. Right now, of course, it's all Monsters University framed, original art, small grey statues (maquettes) of the major characters, Sulley, Mike, Dean Hardscrabble, and the Oozma Kappa frat gang. There is one small area set-dressed as the homey living room at the Oozma Kappa house. 
Oozma Kappa maquettes of the frat bros
Courtesy of Disney/Pixar
We were impressed with the amazing quality and creativity of the art. What a great environment to work in. No wonder these people are comfortable and challenged to do their best here! 
Ooozma Kappa living room set.
Courtesy of Disney/Pixar
The Scare Games 
In the film, Mike and Sulley complete with frat Oozma Kappa against ROR and other University frats and sororities in the annual "Scare Games".. crazy physical competitions in which everything; their future at school for the guys, is at stake.  
The Scare Games with Kidzworld reporter in center
Courtesy of Disney/Pixar
The Pixar/Disney folks decided to give reporters a tiny taste of the games.  We got to Stack the Dice, play Fear Pong and do a Streamer Challenge in which long rolls of crepe paper (like the ones you decorate with for dances and parties) were unrolled and competitors had to quickly wave their arms frantically in the air until both rolls were wrapped around both arms. It's harder than it sounds!  We came in second in the games and were awarded a very cool "Art of Monsters University" autographed picture book!  
Dice Stacking Scare Game
Courtesy of Disney/Pixar
To get in the spirit while working on the film, Pixar employees were divided into teams by department and got super serious about winning these games and more. Producer Kori Rae says "Pixar takes its fun very seriously". For two months the teams competed in the above games as well as dodge ball, riding tiny tricycles in a race, bowling and more. Some team members were sporty folks and some not but they all put their hearts into it.  All the better to understand what Mike and Sulley were going through! 
A visitor tries the Streamer Challenge game
Courtesy of Disney/Pixar
The Blue Umbrella 
Along with Monsters University in theaters and now on the Blu-ray, you can see the adorable short film The Blue Umbrella about an umbrella who meets his true love during a storm but is blown away and battered before they can connect. The signs in the street, mailboxes, awnings etc. come to life and try to save him and get the two lovebirds together. It's a love story… about umbrellas… falling in love… and it's very, very sweet! 
Blue Umbrella creator Saschka Unseld with an early frame from the short film
Courtesy of Disney/Pixar
We heard the history of the project from its German director/writer Saschka Unseld who was inspired to tell stories by his mom who used to make them up to keep him entertained on long car drives. He grew up in rainy Hamburg, Germany where using umbrellas was a way of life. He once saw a crushed one on the street, felt kind of sorry for it and took a picture. Years later he animated a little scene with umbrellas as the "stars". 
Blue Umbrella creator Saschka Unseld with a storyboard
Courtesy of Disney/Pixar
Gradually he developed his umbrella love story and pitched the idea to John Lasseter, Pete Docter and Ed Catmull at Pixar and they were charmed by it. The Blue Umbrella became a reality.  
Wrapping Up 
We were delighted to see firsthand how the fun Monsters University film and Blue Umbrella were made and learn, in person, how the award-wining makers of some of our favorite animated films work and create their masterpieces. You should take Monsters University home to keep and/or gift for the upcoming holidays. The extra features and info (some of which we've mentioned in our report) are pretty cool and entertaining. Go for it starting Oct. 29th! 
Leaving Pixar
Courtesy of Lynn Barker