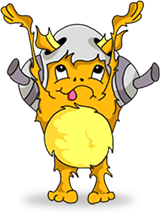 The Smurfs 2 DVD Review
- Reviewed by
Kidzworld
on
Dec 03, 2013
( Rating:

)
THE SMURFS 2 has arrived on Blu-ray + DVD just in time for the holidays. Read Kidzworlds review!
Evil wizard Gargamel creates Hackus and Vexy, a pair of mischievous Smurf‑like creatures, hoping they will let him harness the magical Smurf‑essence. However, he soon discovers that he needs the help of Smurfette, who knows the secret to turning the pair into real Smurfs. When Gargamel, Hackus and Vexy kidnap Smurfette from Smurf Village and bring her to Paris, it's up to Papa, Clumsy, Grouchy and Vanity to reunite with their human friends, Patrick and Grace Winslow, to rescue her.
Exclusive Clip: Passive Aggressive and Panicky
The Bottom Line
It's pretty hard for a sequel to reach the same classic status of the original film, and The Smurfs 2 is no exception to that rule - a lot of its charm relies on the stellar vocal cast, which includes mega pop star Katy Perry as Smurfette and actress Christina Ricci as one of Gargamel's dark side creations, Vexy (both incredibly well cast voices). That doesn't mean that The Smurfs 2 doesn't have some fun moments to offer, and even though it's the Smurfs, Smurfette's journey of self discovery won't leave you "feeling blue" at the end, its an uplifting tale.
The Smurf Gang
The blu-ray combo pack brings the animation into sharp definition, so if the story doesn't grab you, the fantastic visuals hopefully will. For full-on Smurfs fans, the blu-ray combo pack offers a couple of nice extras (although not as many as you might expect), we especially liked the "Daddy's Girl: The Journey of Smurfette" featurette. We can all agree that there aren't always enough girl characters in adventure films, even though everybody knows that girls can kick butt just as much guys, so it's great to learn more about one of the only girl characters in the Smurf crew. The Smurfs 2 doesn't have the same "wow" appeal of the first film, but it's worth a watch, especially if you're planning an animated marathon movie night this holiday season. 
The Smurfs having a bath
DVD Bonus Features Include:
Deleted Scenes
Two featurettes:

Daddy's Little Girl: The Journey of Smurfette - traces the origins of the one-and-only Smurfette back to Smurf creator, Peyo, and features Katy Perry on how she tapped into her inner Smurf to voice the classic character.
Animating Azrael - gives an in-depth look at how filmmakers animated Gargamel's sidekick.

The Smurfette's Birthday!
The Smurfs 2 DVD Rating:
The Smurfs 2 DVD Cover
The Smurfs 2 is now available on Blu-ray + DVD!