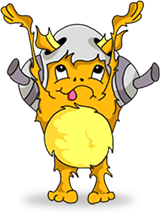 Angry Birds Toons: Season One: Volume Two on Blu-ray + DVD
- Reviewed by
Kidzworld
on
Apr 11, 2014
( Rating:

)
Just in time for Easter, the fan-favorite birds are back with more exciting animated adventures as ANGRY BIRDS TOONS: SEASON ONE - VOLUME TWO soars onto Blu-ray™ and DVD April 15. Watch an exclusive clip on Kidzworld!
Welcome back to Piggy Island, where the Angry Birds' survival is at stake! Join Red, Chuck, Matilda, Bomb, the Blues and Terence as they continue to hatch up schemes to foil the sneaky Bad Piggies who plot to steal their eggs. Based on one of the most popular games in history, ANGRY BIRDS TOONS: SEASON ONE - VOLUME TWO brings back fan-favorite characters for 26 more fun-filled adventures. Will our heroes defeat the mischievous Piggies once and for all? Toon in and find out!
Exclusive Clip: Meet The Character Terence
Blu-ray & DVD Bonus Features Include:
Easter Holiday Special: "Easter Egg Hunt"
Three all-new, "Meet the Characters" Pods, featuring Bomb Bird, Terrence and Chef Pig
Previously released "Meet the Characters" Pod for Corporal Pig
Four Behind-the-Scenes Featurettes:

"Behind-the-Scenes Character Design" – Go behind the scenes to see how Rovio's artists design and animate the characters
"Behind-the-Scenes Producing, Directing and Coordinating" – Learn about the work Rovio's production staff does to create the Angry Birds Toons
"Behind-the-Scenes Compositing, Tools and Color Grading" – Discover more about the kind of work that goes into the composting and color grading the animation.
"Sound Design & Voice Acting and Music Behind-the-Scenes" – Learn how the sound is designed and about the voices behind the characters.  Also see how the music is created for the Angry Birds Toons series
Angry Birds Toons: S1: V2 Rating:
Angry Birds Toons: Season One: Volume Two DVD
Courtesy of Sony Pictures Home Entertainment
Available on Blu-ray + DVD April 15th!
 Based on the No. 1 paid mobile app of all time, ANGRY BIRDS TOONS: SEASON ONE - VOLUME TWO is the next installment in the globally beloved Angry Birds story. The whole family will get to ride along for new adventures, as the beloved birds are brought to life.