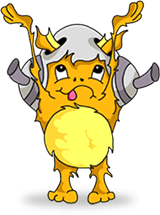 By: Jenna Busch
Check out NASA's Halloween pic! Watch an adorable puppy eat a french fry in the new Disney short. Check out what happens when Katnis Everdeen returns to District 12. Check out all the upcoming DC superhero movies through 2020! We've got all the news you missed this week!
1. It's Halloween in space!
NASA gave us all a Halloween treat this week when they put out an amazing photo of the sun looking like a carved pumpkin. Want to know the science? Here's what they said:
"he active regions in this image appear brighter because those are areas that emit more light and energy. They are markers of an intense and complex set of magnetic fields hovering in the sun's atmosphere, the corona. This image blends together two sets of extreme ultraviolet wavelengths at 171 and 193 Ångströms, typically colorized in gold and yellow, to create a particularly Halloween-like appearance."
Pretty cool! Or hot. We mean, hot.
Even the sun gets dressed up for Halloween!
2. Will there be Ewoks in Star Wars: Episode VII?
Remember the Ewoks from Return of the Jedi? Well, this week we got some news that might mean their fuzzy return in Star Wars: Episode VII. Warwick Davis, who played the main Ewok Wicket made a video where he learned that he's been cast in the new film. Still, he might be playing another role entirely. Davis also played Professor Flitwick in the Harry Potter films.
Will there be Ewoks in the new Star Wars?
Courtesy of YouTube
Check out the video below as well as the Ewok celebration scene from Return of the Jedi. Yub nub!
Star Wars Ewok Song
3. All the DC superhero films we're getting until 2020!
Warner Bros. just announced their film slate through 2020 and there are a lot of superheroes on it. We also learned that we're getting a LEGO Batman film and three Harry Potter spinoffs based on the in-series book "Fantastic Beasts and Where to Find Them."  We're getting Wonder Woman, The Flash and Cyborg! Oh yeah, and a new Green Lantern film! Check out the list below.
Batman v Superman: Dawn of Justice, directed by Zack Snyder (2016)
Suicide Squad, directed by David Ayer (2016)
Wonder Woman, starring Gal Gadot (2017)
Justice League Part One, directed by Zack Snyder, with Ben Affleck, Henry Cavill and Amy Adams reprising their roles (2017)
The Flash, starring Ezra Miller (2018)
Aquaman, starring Jason Momoa (2018)
Shazam (2019)
Justice League Part Two, directed by Zack Snyder (2019)
Cyborg, starring Ray Fisher (2020)
Green Lantern (2020)
We're getting not one, but two Justice League films!
Courtesy of Warner Bros.
4. Watch Katniss return to District 12 in the new Mockingjay teaser
To celebrate the fact that we can buy advanced tickets to see The Hunger Games: Mockingjay Part 1 on October 29, Lionsgate has released a new teaser trailer for the film. In it, we see Katniss Everdeen (Jennifer Lawrence) return to a destroyed District 12. Check it out below!
The Hunger Games: Mockingjay Part 1 will hit theaters on November 21.
Katniss is back in a new teaser for Mockingjay.
Courtesy of Lionsgate
5. Watch a teaser from Feast, the new Disney short
Big Hero 6, the latest Disney animated film (and the first to be based on a Marvel comic) premieres on November 7, and with it, you'll get to see the new Disney short Feast. We got to watch it this week, and it's the cutest thing you've ever seen! Here is a little teaser of the film, which tells the story of a man and his best puppy buddy, told through their shared love of snacks. Even cooler? This film was done by first time director Patrick Osborne (Paperman) who won the contest that Disney held for short film ideas!
The new Disney short is the cutest!
Courtesy of Disney
Disney's Feast Special Look
6. Rainbow Brite is back!
Have your parents ever made Rainbow Brite references when you wear bright clothes? Have you ever wondered why? The 80s cartoon about a very colorful little girl and her rainbow friends is getting a remake. Check it out when the first episode 'Cloudy with a Chance of Gloom' on November 6, 2014 on FEELN and watch the trailer below. You might need sunglasses.
80s cartoon star Rainbow Brite is back!
Courtesy of YouTube
Rainbow Brite Trailer
7. Robert Downey Jr. has signed on to play Iron Man in Captain America 3
RDJ recently joked about signing on for Iron Man 4. The real truth? He's actually reprising the role of Iron Man/Tony Stark in Captain America 3! This hints at Marvel using their "Civil War" storyline, which is all about the government registering superheroes to supposedly protect the public, and which side everyone ends up on. Marvel is also doing a new version of the story in comics.
Robert Downey Jr. will be back for Captain America 3
Courtesy of Marvel
Have Your Say!
What are you dressing as for Halloween? Are you hoping for Ewoks in the new Star Wars  film? Which DC superhero movie are you looking forward to most? We want to know!