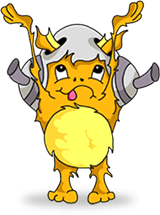 The thrilling second chapter of the epic HOW TO TRAIN YOUR DRAGON trilogy returns to the fantastical world of the heroic Viking Hiccup and his faithful dragon Toothless. The inseparable duo must protect the peace and save the future of men and dragons from the power-hungry Drago.
Exclusive Clip: Fishlegs' Dragon Stats
Fishlegs give us the low-down on the Night Fury, the species of Hiccup's faithful dragon Toothless.
How To Train Your Dragon 2 Blu-ray
Courtesy of 20th Century Fox Home Entertainment
How To Train Your Dragon 2 is available on Blu-ray + DVD November 11th!
Have Your Say
Did you enjoy watching the exclusive clip from HTTYD2? Comment below and let the other users know!