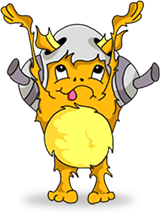 Name: Louie Vito
Height: 5' 5"
Weight: 126 lbs
Age: 30
Birthday: April 10, 1981
Place of Birth: Toledo, Ohio
Sport: Snowboarding
Specialty: Superpipe
Halfpipe specialist Louie Vito is climbing the ranks of the snowboarding scene and is speeding up on the heels of Shawn White for performing the most radical vertical moves. Five years ago, Louie's Backside 1080 at the Australian Open was the first time any snowboarder had landed this move in competition. Now Louie is amongst the top 10 snowboarders in the world.
Gymnastics Gung Ho
Louie was born in Columbus, Ohio and raised in Bellefontaine where he practiced his snowboarding moves on Mad River Mountain. But Louie can probably thank his parents for getting him into gymnastics which developed the main skills that helped him excel in the high flying aerials he is most known for today on the snowboading scene.
Best 1080 Backside
Everyone knows that Louie won his first two consecutive championships at the Australia Open because of his Backside  1080 specialty. Louie was only 17 years old when he knocked down that move and it put him on route to challenge the world. Since 2006, here is a long list of all of his big championships:
2006 - 1st at the Australian Open
2006 - 2nd at the Vans Cup
2006 - 3rd at the Middle Earth Superpipe Championships in New Zealand
2007 - 1st at the Garnier Fructis Pro Challenge (Australian Open)
2007 -2nd at the New Zealand Open
2007 -2nd at the U.S. Grand Prix
2008 - 1st at the Grand Prix at Tamarack
2008 - 1st at the Jeep King of the Mountain
2008 - 1st at the Etnies GVR
2008 - 2nd at the Australian Open
2008 - 2nd at the Vans Cup
2008 - 1st at the U.S. Grand Prix
2009 - 1st at the U.S. Grand Prix at Copper Mt.
2009 - 2nd at the World Cup at La Molina, Spain
2009 - 2nd at the U.S. Grand Prix at Boreal
5th in the Half Pipe Snowboarding Final at the 2010 Winter Olympics
2010 - 2nd At the 2010 US Open {Superpipe}
2010 - 3rd (bronze) at 2010 Winter Euro X Games
2011 - 1st at the Winter Dew Tour 2011 at Killington, Vermont
2011 - 3rd in half-pipe at Winter X Games
2011 - 1st in half-pipe at European Winter X-Games, Tignes
2012 - 2nd at the U.S. Grand Prix
Louie Vito at X Games
Courtesy of X Games
Snowboarder TV Star
Louie's good looks and cool personality has landed him many opportunities to get into television. His biggest show was getting all the way to week six of Dancing with the Stars when he teamed up with Chelsie Hightower from So You Think You Can Dance. Here are some other TV Shows Louie has been casted:
ABC Family's Switched
The Daily Habit F
ruit by the Foot Junior Jam
Livin Louis Vito Feature on ESPN
Louie Vito Dancing with the StarsCourtesy of Dancing with the Stars
Related Stories