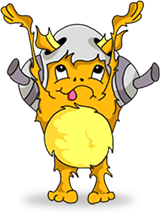 The Nut Job Blu-ray Review + Exclusive Clip
- Reviewed by
Kidzworld
on
Apr 15, 2014
( Rating:

)
Be prepared for one squirrelly adventure in the action-packed comedy, The Nut Job, starring Surly, a mischievous squirrel on a mission to prove himself. Read Kidzworlds review of the Blu-ray + DVD and watch an exclusive clip!
Surly is a mischievous squirrel with a mission: to find the tastiest nuts for winter. When he discovers a whole store filled with his favorite food, he plans a heist of nutrageous proportions. But the place turns out to be owned by ruthless bank robbers so it's up to Surly and his furry friends to stop the nearby bank heist and save the town. 
Exclusive Clip: Date With Destiny
The Bottom Line
Pixar and Dreamworks tend to domiante the animated movie scene these days, so it's nice to see other studios offering up something a little different. The Nut Job is a classic heist story, but set in the adorable world of park squirrels and other city wildlife in their atempt to "rob" a store of it's, well, nuts. Who doesn't love a heist story? It's fun to root for the underdog, and The Nut Job boasts some pretty lovable characters.
Showcasing an all-star cast including Brendan Fraser, Liam Neeson, Katherine Heigl, Maya Rudolph (Turbo), Jeff Dunham and Gabriel Iglesias, The Nut Job will prove "Enormously Entertaining" for the whole family (Avi Offer, NYC Movie Guru)! Although The Nut Job isn't the most sophisticated animated film, it has a lot to offer for younger viewers and the all-star voice cast is a nice treat for parents and older kids.
The Blu-ray features some cute extras, our faves probably being the "dance-off" end credits and funnyman Will Arnett discussing the story in "The Great Nut Heist." All in all it's a great movie for the whole family.
EXCLUSIVE Blu-ray Bonus Features
DELETED SCENES - Check out Surly, Grayson and the gang in scenes removed from the final version of the movie.
STORYBOARDS - Watch key scenes from the film brought to life from the original sketches.
THE GREAT NUT HEIST - Will Arnett, the voice of Surly the squirrel, discusses the great caper story at the heart of the film.
DANCE-OFF END CREDITS - Surly joins his furry friends and a very special guest for this show-stopping number.
The Nut Job Blu-ray + DVD Rating:
THE NUT JOB Blu-ray and DVD Cover
The Nut Job Scurried onto Blu-ray and DVD April 15th!