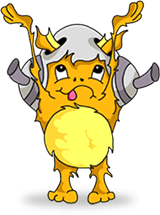 In this eye-popping reimagining of the legendary heroes in a half shell, New York is under attack by the sinister Shredder, but fearless leader Leonardo, brilliant and brainy Donatello, rough and rebellious Raphael and wild and crazy Michelangelo take to the streets to defend their home with the help of intrepid reporter April O'Neil (Megan Fox) and their brilliant sensei, Splinter. 
Exclusive Clip: Donatello's Characteristics
This clip is from the special features available on the Target Blu-ray!
Packed with jaw-dropping action and special effects and loaded with the franchise's signature humor, TEENAGE MUTANT NINJA TURTLES is "fun for the whole family" (Joel Amos, Movie Fanatic).  The film also stars Will Arnett, Whoopi Goldberg, and William Fichtner and features Johnny Knoxville as the voice of Leonardo and Tony Shalhoub as the voice of Splinter.
Target TMNT Blu-ray Covers
Courtesy of Paramount Home Entertainment
The Target version has 30 minutes of additional bonus features and comes in a choice of 4 O-rings.
Teenage Mutant Ninja Turtles is available on Blu-ray + DVD December 16th!